September's beauty box from
COCOTIQUE
had products set to take you into the fall season. September's box featured skincare products that help revive the skin, foundations with a huge range of colors, a fresh coconut fragrance and something healthy and delicious to snack on.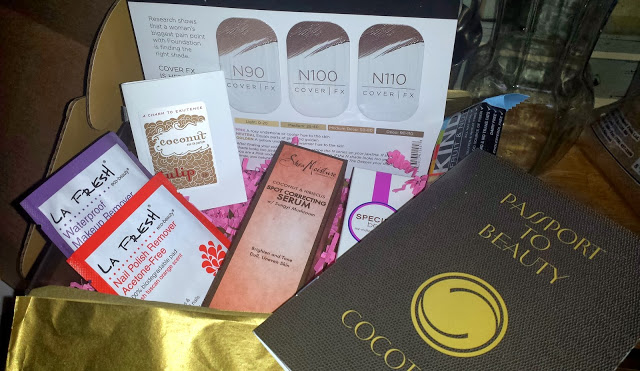 Shea Moisture Coconut & Hibiscus Spot Correcting Moisturizer – a nourishing moisturizer that delivers multi-level hydration that helps correct dark spots while brightening and toning the skin. Featuring Coconut Oil, Vitamins E and K, Hibiscus Flower, and Songyi Mushroom to treat rough, dry skin and improve uneven skin-tone. So if you suffer from dull, uneven skin and wish for a brighter complexion, this certified organic product is for you.
Specific Beauty Night Treatment Complex – looking for a night cream that works overtime while you sleep? This lightweight, paraben-free, fragrance-free skin brightening complex improves your skin's texture while you sleep. It hydrates, brightens and enhances your skin's natural complexion with great ingredients such as Linoleic Acid, Licorice Extract and Niacinamide which evens and smooths skin-tone, Vitamin E to protect skin from free radicals, Retinol to exfoliate and improves skin's texture and Shea Butter to hydrate.
Tulip Coconut Eau de Parfum "The Eclectic Bohemian" – If you're a fan of the tropics, then you love this sophisticated coconut fragrance. A scent that is great year-round, the Tulip Coconut Eau de Parfum will delight ou and all those around you. Tulip perfumes are perfect for natural scent lover; it contains no Phthalates, no dyes, no parabens, no harsh preservatives or drying agents.
Cover | FX Total Cover Cream Foundation – A major issue women of color has is finding the right foundation for their skin-tone. with complexions that range from fair to very dark, most beauty companies are still unable to have a range that most women of color are happy with until Cover | FX. With 28 global shades available, this antioxidant infused, full coverage foundation and concealer in one provides an all-day radiant finish that nourishes and protects the skin with anti-aging benefits. The SPF 30 foundation is paraben-free, fragrance-free, gluten-free, mineral oil-free and talc-free.
La Fresh Waterproof Makeup Remover & Acetone-Free Nail Polish Remover – La Fresh offers skin-loving products that are free of parabens, sulfates, triclosan, dyes, PEGs, artificial fragrances, glycols, GMOs and animal byproducts. The Waterproof Makeup Remover is alcohol-free, instantly dissolves resistant makeup on both eyes and lips, and leaves no heavy residue. The Acetone-free Nail Polish Remover removes polish without bring harsh on your nails. One pad cleans and conditions all 10 nails with a fresh Tuscan orange scent and moisturizes nails with Aloe, Glycerin and Vitamin E while Rosemary and Horsetail Extract strengthens nails.
Kind Blueberry Vanilla & Cashew Bar – if you've ever had a Kind Bar, you know how delicious and good for you they are. Offering both healthy and great taste in a snack, you will find yourself always craving Kind Bars. The bars are made with delicious, all natural foods made from ingredients you can actually pronounce. Along with being all natural, they are gluten-free, have low Glycemic and are a great source of fiber. This particular bar is a chewy blend of blueberries and cashews combined with the sweet taste of vanilla.
COCOTIQUE is a deluxe beauty box subscription service for women of color and diverse ethnicities. Each month, you will receive a COCOTIQUE Box with 5-6 expertly curated beauty and lifestyle samples delivered to your door. Your box will include a variety of samples from skin care, hair care, fragrance, nail and lifestyle companies. As an extra added surprise, there will be one subscriber that will get the Bonus COCOTIQUE Box! The Bonus box will include a gift certificate for a special gift like a collection of full size beauty products, clothing, shoes, jewelry, beauty appliances and other premium items.
With COCOTIQUE, you can choose the subscription level that works best for you:
Monthly – $20 (cancel at anytime)
3 month – $58 (save $2)
6 month – $112 (save $8)
12 month – $220 (save $20)