Not that you really need a reason to take extra care of your skin but I do want to highlight two very good ones. First, we are in the drying winter season, which means stressed, overly dry skin, moisture loss and more pronounced lines and wrinkles – all which make you look older. Nobody wants this to happen to them, so unless you take the time to research the
dermal repair complex ingredients
(a very popular skincare line), then the younger-looking skin that you've always wanted to achieve will never happen. Which is why you must take care of your skin all year round, but especially in the winter seasons. Following on from the first point, a new year means a time for renewal, not just for your body and soul but for your skin as well. With that being said, Elizabeth Grant offers three amazing treatment masks that offer the benefits of marine plant life. The following Algophyte Treatment masks consists of the
Black Algae Anti-Aging Mask
,
Blue Algae Purifying Mask
and
Red Algae Radiance Mask
.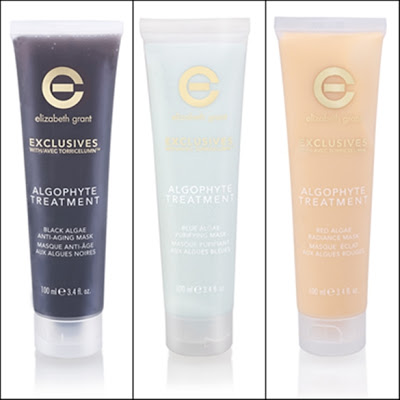 The Black Algae Anti-Aging Mask brings together two marine treasures with extraordinary properties: Black Algae from the coast of Bora-Bora and Torricelumn. Black Algae is rich in alginic acid, it helps to fight the free radicals responsible for the cellular aging. It develops specific sugars providing ability to resist against coldness. It helps protect the epidermis against external aggressions. Black pearl extract nourishes the skin and slows down the aging processes by improving the metabolism, supporting moisturization and protecting against damaging environmental effects. Torricelumn is a superior moisturising compound, clinically tested to increase hydration levels and diminish the appearance of lines and wrinkles.

The Blue Algae Purifying Mask invigorates your skin. It contains a cocktail of balancing minerals, Blue Algae from the arctic sea and vitamins that intensely detoxifies and purifies the skin; helps to tighten the appearance of enlarge pores while refining skin texture and comforts and tones your complexion. It also increases the toxins elimination process and stimulates the cellular exchanges. It contains an ultra-refined grade of hyaluronic acid to restore vital moisture. Your skin will recover its purity and youthful healthy appearance.
The Red Algae Radiance Mask is designed to refresh and energize the skin. Containing Red algae developed from the seaweed of Agadir, Moroccos Atlantic coast, this mask will immerse your skin in powerful, radiance-boosting, soothing care. This ultra-performing formula will leave your skin feeling energized, moisturised and wonderfully refreshed. An instant smoother, it softens the appearance of your skin and improves its texture. This ultra-performing formula will leave your skin feeling energized, moisturized and wonderfully refreshed.
All three treatment masks are a must-have addition to your beauty arsenal and they're all available for only $19.99 on www.elizabethgrant.com.