It is day two of Mercedes Benz Fashion Week (technically it's day 3 for me) and I'm already feeling the effects on my body. You've heard of Tennis Elbow, well I'm suffering from Gift bag Shoulder. The only thing is that both my shoulders
AND
my elbows are in pain. I've been looking for the
Best Elbow Sleeve for Women
to try and help, but I don't think there's anything similar for shoulders. This is all on top of the foot pain I have which is already getting my attention. Luckily, Kmart is coming to the rescue with a Fashion Week Survival Kit. Kmart announced a partnership with Sophomore NYC, just in time for fashion week for those of us who suffer through the stress, the running around, the high heels, the no-time-to-eat moments all in the name of fashion.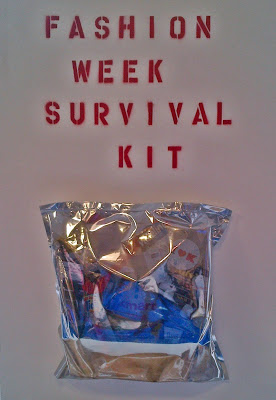 In its third season, the Kmart Concierge is a real-time service helping make Fashion Week a little easier for fashionistas and bloggers. Leveraging Twitter to transform the brand's @KmartFashion profile into a concierge and delivery system, the Kmart Concierge will answer the call of those tweeting out their #FashionWeekProblems using the unique hashtag. From tights to lip balm and mineral water — must-haves that Kmart is known for–select influencers will have their Fashion Week dilemmas solved with real-time delivery by Concierge girls outfitted in the #FashionWeekProblems tee from 2/8-2/16.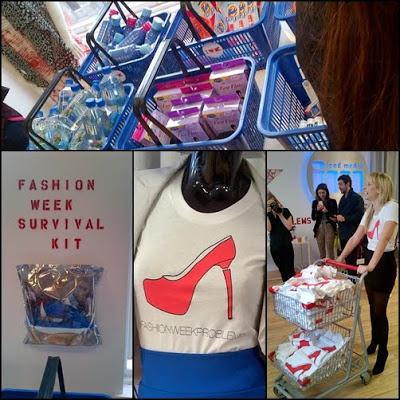 Kmart Fashion has partnered with It Girl downtown t-shirt line SOPHOMORE to create a limited edition t-shirt inspired by the frenzy of Fashion Week. Designed by SOPHOMORE's creative director Chrissie Miller, the #FashionWeekProblems tee espouses the creativity and tongue-and-chic fun of SOPHOMORE with the classic wearability of Kmart Fashion. Emblazoned with the hashtag #FashionWeekProblems across the front, the t-shirt signifies all of the little Fashion Week mishaps–from broken heels to torn stockings–that Kmart's Concierge service will solve.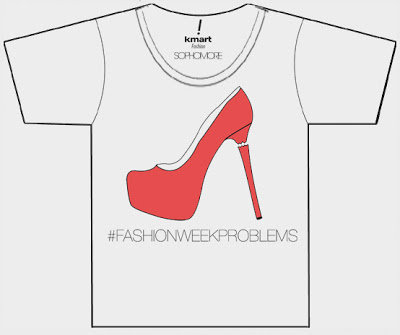 Miller says,"The t-shirt design came about from this idea of #FashionWeekProblems. Who hasn't had a major shoe emergency on their way to a show or party? A broken heel is every girl's nightmare!" The t-shirt will be unveiled at a private event in NYC on 2/2 and available as a gift with purchase (while supplies last) at SOPHOMORE's 143 Ludlow Street store. The SOPHOMORE partnership is a natural extension of Kmart Fashion's ongoing Money Can't Buy Style campaign–embracing personal style at all price points. Money Can't Buy Style celebrates individuality and personal self-expression, focusing on the individual fashionista who sets her own trends.