When you think of
Biore
, you automatically think of their revolutionary Pore strips, a product that was a mainstay in my beauty arsenal for my entire 20's. Speaking of my 20's, did you know that more than half of 20-yr old women experience combination skin? It's true, about 70% of 20-yr olds have to choose between treating the oily parts or the dry parts of their face – inevitably making their skin worse by over-cleansing or under-cleansing. Biore has launched a breakthrough cleanser to combat this issue, the new
Combination Skin Balancing Cleanser
.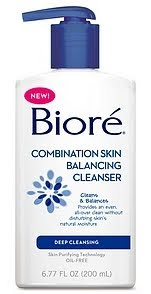 Developed with Skin Purifying Technology, a revolutionary technology comprised of dirt-seeking cleansing molecules that target and cling to impurities. The breakthrough product cleanses skin without stripping away its natural moisture. Biore Combination Skin Balancing Cleanser cleans oily t-zones while simultaneously thoroughly yet gently cleansing drier areas of the face. Take a look at the samples below – on the left is a mix of Biore's Combination Skin Balancing Cleanser which was added to the typical oil and dirt that appears on your skin. On the right is the leading competitor's cleanser with the same oil/dirt mixture.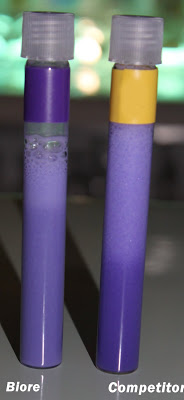 As you can see, the Biore sample fully traps the oil and dirt so it makes it easy to wash it off your face while the competitor's sample separates quickly making it ineffective in properly cleaning your skin. The Combination Skin Balancing Cleanser is part of the new color coded Biore Skincare collections. Orange is ideal for complexion clearing, Blue is for thorough cleansing, Pink is for make-up removing and the return to the original Blue and White is now for the brand's overall packaging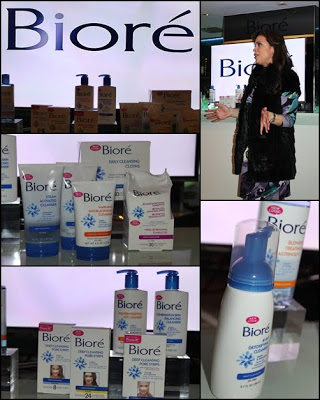 Along with the Combination Skin Balancing Cleanser, the collection also includes the Steam Activated Cleanser, 4-in-1 Detoxifying Cleanser, Pore Unclogging Scrub, Blemish Fighting Ice Cleanser, Blemish Treating Astringent, Warming Anti-Blackhead Cleanser, Deep Cleansing Pore Strips, Ultra Deep Cleansing Pore Strips, Combo Pack Deep Cleansing Pore Strips, Daily Cleansing Cloths and Make-up Removing Towelettes. As someone who suffers from oily/combination skin, I was very happy to get samples of the products to try out – I am guilty of over-cleansing my skin due to its oily nature so I am really excited about trying some of these products.
All the products mentioned above are available now at select food, drug and mass retailers