On May 3rd, the first Sephora Store to open in the US, reopens with after undergoing a transformation. The new revamped Soho location will offer the usual product favorites, along with enhanced services, new areas to explore, and even a few surprises. You may remember the Sephora Soho store looking something like this: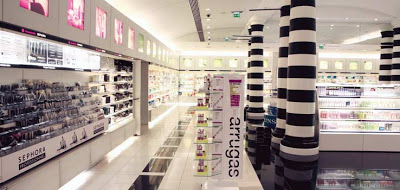 With the new redesign and reopening, you will certainly be spending more time at Sephora. The makeover signals the beginning of several major store renovations for Sephora in 2012 that will elevate the beauty retail experience in the trend, culture and fashion center of the US – New York City. Sephora Soho's transformation includes:
An entirely updated appearance to showcase over 13,000 of the world's best beauty products
An expanded 30 foot Beauty Studio to conduct Express Services and Customized Makeup Applications
A private Personal Beauty Advisor (PBA) room to provide Sephora's signature beauty services in the most sophisticated and tranquil atmosphere
A separate Fragrance room that allows clients to explore the world of fragrance in a completely immersive environment
A specially commissioned art installation by New York artist Eric Daigh, combining his unique portraiture and Sephora's brand codes including the flame, a symbol synonymous with Sephora since its creation in 1970
New Cast Costumes designed by Prabal Gurung
To celebrate the opening, Sephora will be featuring a variety of Soho-inspired events and services all weekend long:
Meet Kat Von D & Experience Her First Solo Art Show, "New American Beauty", Thurs May 3rd 6 – 8 pm
Meet Kat Von D, tattoo artist, TV star, and owner of High Voltage Tattoo as she previews her exclusive art prints for her New American Beauty art show which benefit the Art of Elysium. The first 100* people to purchase a limited edition art print or any Kat Von D beauty product will have the opportunity to meet Kat that evening. *Clients may begin purchasing prints and products on Thursday, 5/3 at 10 am.
Transform yourself at Sephora Style Stations where Sephora Cast Members and Brand Experts will be on hand to offer complimentary Soho-inspired hair, makeup, skincare and fragrance services. Before leaving the station, have your picture taken to be streamed to the live installation on the store front windows.
Sephora Personalized Beauty Assessments by "The Bumbys," Friday (5-7 pm), Saturday and Sunday (3-5 pm)
Once you have achieved Soho beauty style, let anonymous New York performance artists Gill & Jill Bumby provide "Fair and Honest Appraisals of Your Appearance" with nothing more than their manual typewriters and charming wit. It's as simple as it sounds – you stand front and center and they type you a personalized assessment of how they think you look!
LIVE MULTI-MEDIA WINDOW INSTALLATION
Shoppers along Broadway will be able to view the Sephora Soho profile coming to life in the window display. A live multi-media installation will create a dynamic and engaging living art piece that is reflective of the neighborhood's unique attributes; images of neighborhood landmarks, architecture and street signs will be juxtaposed with photos and video of clients showing off their new Soho inspired look and will be punctuated with real-time social messaging.