As promised here are some more of the amazing brands I saw at the Sephora Beauty Fair. This time around, I'm going to concentrate on getting beautiful, healthy, glowing golden skin, thanks to some of the amazing self tanning products available at Sephora. These are essential for now since the sun has been playing hide-and-seek for the last several weeks. Get a rich bronze glow even though Mother Nature isn't currently cooperating.
St. Tropez's Bronzing Mousse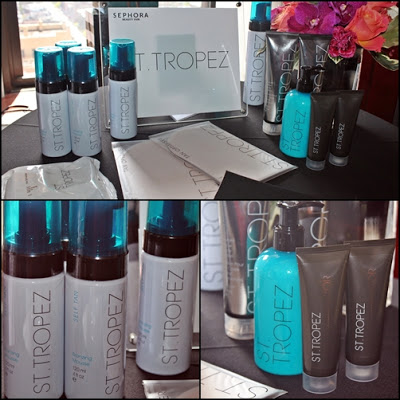 Get great all-over color in an instant with this lightweight, easy-to-apply, velvety bronzing mousse infused with conditioning aloe vera. The St.Tropez Bronzing Mousse dries in 60 seconds while it delivers a natural looking, streak-free, rich-bronze tan. Everyone, even darker skin tones (it evens out skintone and leaves a light golden shimmer) will get super glowing skin from this paraben-free, Sulfate- free, Phthalates- free, and Triclosan-free buildable self tanner. The innovative Aromaguard™ fragrance technology eliminates the tell-tale self tan aroma by a minimum of 70%.

Kate Somerville's Somerville360° Face and Somerville360° Body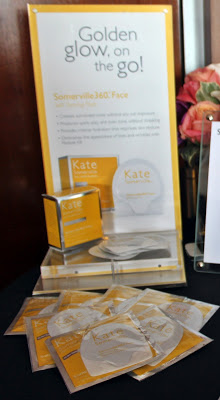 Kate Somerville has an incredible product that gives you a beautiful sun-kissed look in just one step. The built-in exfoliating applicators of the Somerville360° Face Self Tanning Towelettes and Somerville360° Body Self Tanning Pads creates a glowing complexion in just two to four hours for a streak-free, even coverage application that won't stain your hands. Because its advanced moisturizing formula works with your skin's own proteins, it gradually darkens to an ultra-natural, complementary color every time. Specially designed for the face, Somerville360 Face's formula contains powerful peptides and age-defying actives to diminish the appearance of lines and wrinkles. What's more, both products are without Parabens, Sulfates, Synthetic Dyes, Petrochemicals, Phthalates, GMOs and Triclosan.
Dr. Dennis Gross's Alpha Beta Glow Pads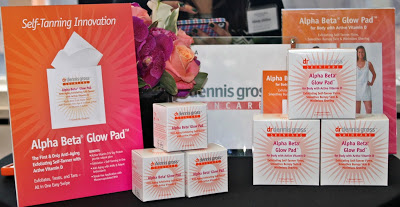 Who doesn't love a multi-tasking product? Dr. Gross's anti-aging exfoliating Alpha Beta Glow Pads are packed with antiaging properties and vitamin D to give you a sun-kissed glow all year-round. Enjoy an amazing golden glow without being exposed to the sun's harmful UVA/UVB rays. Formulated with the sun vitamin, Active Vitamin D, known for enhancing the benefits of other vitamins and antioxidants found in the formula, these pads give the face believable, natural color thanks to the hardworking Microencapsulated DHA and soy proteins that deliver odorless, streak free color deep into skin to prevent fading through surface exfoliation. Not only do you get a great looking natural tan, the alpha-and beta-hydroxy acids penetrate the skin to exfoliate, tighten pores, eliminate blackheads, and help fade existing sunspots for an even, streak-free glow. This product is gentle enough for all skin types, vegan, cruelty-free and formulated without Parabens, Sulfates, Synthetic, Dyes, Petrochemicals, Phthalates, GMOs and Triclosan.
More amazing products to come…