As you may remember from my coverage of this year's winners, I had the pleasure of attending the HBA Global Beauty Expo but prior to that I attended the BEA Book Expo and after that was CE Week. It was non-stop days of constant walking, carrying lots of literature, etc, all while trying to stay cool during the intensely hot days so you can only imagine the state of my poor feet. It just so happens I received a sample of the reviving
Lavandula (French Lavender & Mint) Foot Scrub
(with Cupuacu Seed Butter – known for its superior moisture retention properties) from new organic beauty brand,
Me & The Girls
at the HBA Global Expo.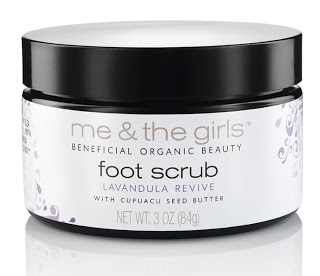 It was heaven in a jar from its invigorating fragrance to its foot softening capabilities, you may not know this brand yet but you will now. Me & The Girls was one of several emerging brands featured at the new Splash Pavilion at the HBA Global Expo as part of their New Product Innovations Showcase. They presented their Limonum Sugar Body Scrub from the spring/summer collection which was voted as Best New Product for being the most innovative, most effective and coveted, by participating attendees of HBA Global.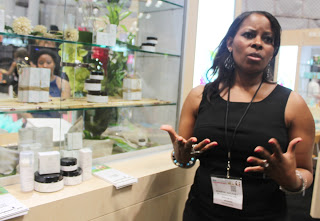 Sharon Hackney, Founder and CEO of Me & The Girls (featured in the photo above telling us about her brand and products) was quoted as saying:
"I am the recipient of unimaginable favor. It is rewarding enough to be included in the Splash Pavilion at the HBA, but to also have our product highlighted and recognized as the best new product among your peers is all too surreal. I feel both humbled and validated all within the same breath."
If you want to get and keep your feet sandal and summer ready, check out this great flash sale from Me & The Girls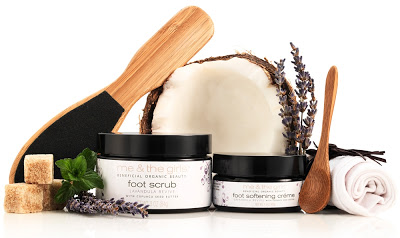 French Lavender & Mint foot scrub regularly priced at $24.00 on sale now for only $15.00! Free pedicure set for the first 25 orders!