You may remember a post not to long ago where I listed a few fashion week essentials and listed Fiber one Bars as a must for on-the-go eating during this fashionable but hectic week. Fiber One Bars and Brownies are the Official Snack of Mercedes-Benz Fashion Week (for the Spring 2013 shows, they're sampling their newest
Carmel Chocolate Pretzel 90 Calorie Bars
in limited edition fashionable wrappers that are exclusive to Mercedes-Benz Fashion Week) and this season they're partnering with Style Expert, Bobbie Thomas, with help from DIY expert and co-contest judge Erica Domesek of P.S. I Made This, to launch the first-ever DIY
Fiber One Snackcessory Challenge
.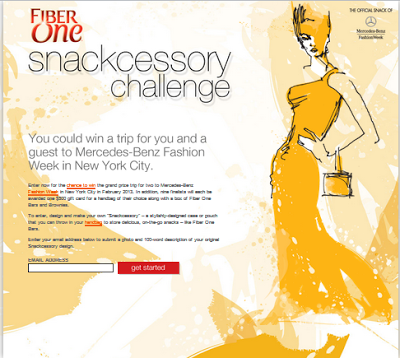 Fiber One is inviting all you Fashionistas and DIY-ers to design your very own "Snackcessory," a stylishly designed case or pouch that can hold delicious snacks, like Fiber One Bars and fits in your handbag. Now through September 30, 2012, you can visit FiberOne.com and submit a photo and 100-word description of their original Snackcessory design. All who enter their designs will have a chance to win great prizes:



One Grand Prize winner will be awarded a trip for two to New York City to attend Mercedes-Benz Fashion Week in February 2013
Nine contest finalists will each be awarded one $500 gift card for a handbag of their choice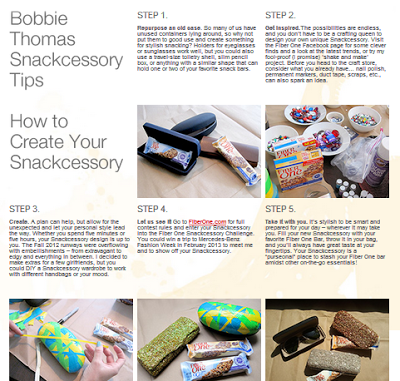 "It's important for me to keep essentials in my handbag for wherever the day may take me. Meetings often run long, phone calls and traffic can pull you from your personal time – and many people don't think about throwing a snack in their bag for when hunger pangs hit," said Thomas. "Fiber One Bars are my go-to snack and, of course, I prefer to stash them in a chic, secure place, which is why I'm excited to team up with Fiber One for their Snackcessory Challenge."
The finalists will be announced in October, and Fiber One will post their designs in an online gallery for public voting. The Grand Prize Winner will be announced in November 2012. For tips and inspiration from Bobbie Thomas, visit Fiber One on Facebook.