Nikki Reed took a break from filming Twilight's Breaking Dawn to attend the premiere of Red Riding Hood in Los Angeles. The Vampire Vixen looks spring chic in the Linda Dress by Hype Apparel.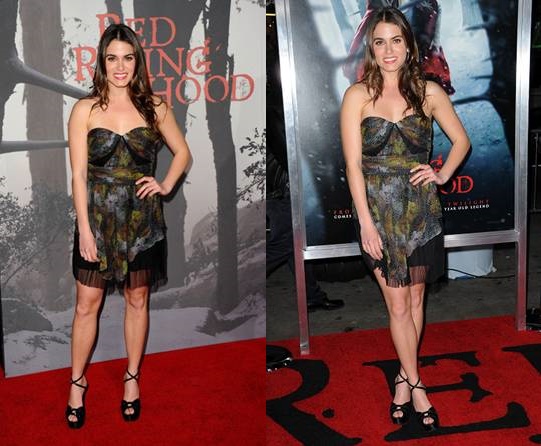 This silk dress offers a stylish multicolored floral print overlay, over black silk with flattering ruffle detail. The Linda Dress retails for $215.00 and is available at
http://www.getthatstyle.com/
. I know many people are usually afraid to pair accessories with prints, but I think Nikki needs a necklace, nothing bold, maybe a delicate single gold strand
The Hype collection focuses on pieces that easily transition from day to night, and combines a mix of classic bodies with bold prints and flirty, feminine fabrics.  For more information on the Hype Collection, go to http://www.hypestyle.com/. What do you think of Nikki Reed in Hype Apparel? Does the dark, moody dress compliment her vampy style?