A new sanctuary has arrived in the US, are you ready for total spa indulgence at home? The UK's Premier Day Spa,
Sanctuary Spa Covent Garden
, has debuted their professional spa treatment products across the shores. The brand's debut premiered with the introduction of their
Youth Boosting Facial in-a-Box
(featured directly below) to the QVC audience on "Friday Night Beauty with Lisa Robertson" on February 1st.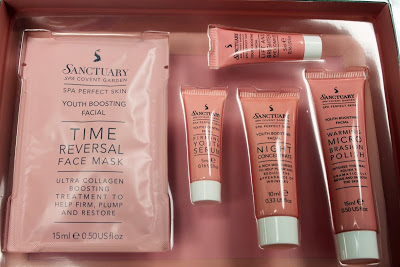 Developed by the Sanctuary Spa's highly trained therapists the $39.00 "Youth Boosting Facial in a Box" treatment system includes all the steps that are done in a professional spa treatment to deliver visibly firmer and plumper skin at home. This 30-minute facial delivers the ultimate pampering treatment, revealing firmer and smoother skin that is better protected against the early signs of aging with noticeable results after just one use.
Some of the other products to look forward to, which can be purchased now on QVC – Sanctuary Spa Covent Garden, include:
Time Reversal Face Mask – an intensive treatment, the mask contains vitamin A,C and E including a specialized marine complex shown to increase collagen levels, helping to strengthen skin from within and visibly reduce wrinkles over time. Protective green tea, conditioning wheatgerm and soya oils leave skin feeling silky.
Warming Microbrasion Polish – an intense thermal polish to refine and smooth the skin. It combines intense warming to help stimulate circulation, with an ultrafine polish of marine earth and natural kaolin to help leave skin feeling deeply cleansed and refreshed
30-Day Youth Revolution – a powerful treatment helps combat the signs of ageing by removing a layer of dead skin cells and improving the skin's overall firmness, tone & hydration.
Night Concentrate – this Night Concentrate contains a specialized marine complex that works overnight to help protect, strengthen and promote the skin's natural renewal.
Therapist's Secret Facial Oil – the secret step in a spa facial, this 100% natural superfood for skin works on all skin types. Its powerful mixture of pure oils, Rosehip seed oil, precious rose and frankincense helps replenish the skin's natural oil content, provides noticeable plumper and rejuvenated skin, helps rebuild, strengthen, soothes and calms for dewy-soft, radiant and noticeably younger skin
Ultimate Facial Cleansing Oil – infused with a special blend of 4 oils rich in vitamins and essential fatty acids, this hard-working, gentle cleanser is suitable for all skin types and results in perfectly clear, replenished skin that feels fabulously soft and supple.
Lift and Brighten Eye Complex – this special eye cream contains an active complex that has been shown to help relax muscles and firm the skin and helps to improve the appearance of dark circles and puffiness, leaving the skin looking lifted, firmer, brighter and younger.
Firming Youth Serum – this firming serum is a crucial stage in the Youth Boosting Facial and delivers a specialized wrinkle-reducing complex that helps strengthen and promote collagen synthesis. Over time the skin looks visibly firmer and lifted, whilst an active shown to lessen muscle contractions reduces the appearance of fine lines and wrinkles.