I'm the type of person who always needs a little noise, a little music in the background. I'm known for chair dancing (sofa dancing, floor dancing…sitting on the floor that is). As a blogger, inspiration or writing angle can come from anywhere and music plays a big one in mine. This is why my HTC OneX+ has several playlists that not only keep my body moving but keeps my favorite songs (old and new) with me always. The beauty of the HTC One X+, you have several music app choices already available and of course you can always download more. Shown are my phone's music app,
Soundhound
(which competes with shazaam in music recognition),
TuneIn Radio
(lets you listen to music from all over the world) and
Spotify
. **the below photo was taken before I downloaded the almighty
Pandora
**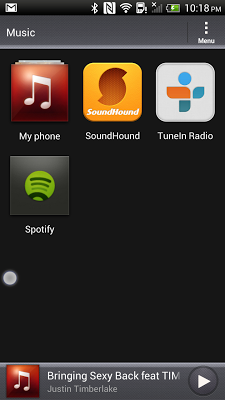 Below are screenshots of my Spotify and my music transfers from my itunes (try not to judge my 1990 and early 2000 music overloads). I have quite a few songs that I listen to while I blog, clean my living room, even two songs to get me going in the morning (I am so not a morning person)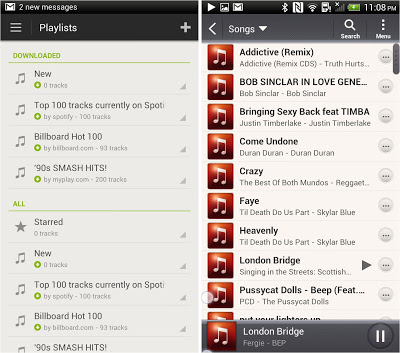 My morning pick-me-up songs? a little bit of 90's with Nick Kershaw's "Wouldn't it be Good", it's just so sunny and optimistic – I usually have this on repeat 2-3 times and then the real get-me-out-of-bed/strut my stuff/fabulous song, this is the song I normally do my housework to, I run to this song, I do my NYC streets catwalk to it….just about every time I need a pick me up or I'm feeling celebratory – Bob Sinclair's "Love Generation". I know I'm not the only one who does this, so what songs get you guys going?
Content and/or other value provided by our partner, HTC.
Right now I am having a blast with Pandora, building up my stations and enjoying all the music recommendations – I highly recommend using Soundhound and Pandora, you discover new music and old favorites and get some amazing recommendations.
While listening to music on my HTC OneX+, I was inspired to share this quote:
One good thing about music, when it hits you, you feel no pain." ― Bob Marley