For the past few weeks I've been indulging literally from head to toe in güd by Burts Bees's newest hair and body collection scent –
Red Ruby Groovy
. With the energizing combination of grapefruit and thyme, the aromatic and vibrant fragrance of
güd's Red Ruby Groovy
is a delight for more than just the senses.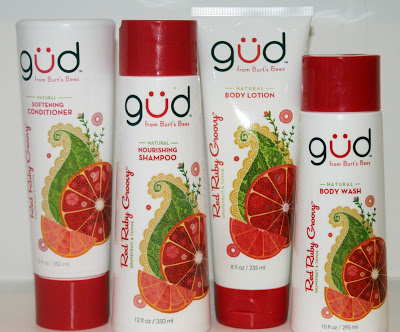 güd's Red Ruby Groovy products not lavishes your skin and hair with its reviving and fragrant ingredients, it nourishes, cleanses and moisturizes every inch of your being. Check out more details on the entire range below:
TOP NOTES: Grapefruit, Black Currant, Mandarin
MID NOTES: Apple Papaya, Thyme
DRY NOTES: Musk
Natural Nourishing Shampoo ($6.99) – this gentle shampoo cleanses hair naturally, leaving it light, super-shiny and ultra-touchable (you just might get addicted to your own hair).
Natural Softening Conditioner ($6.99) – your hair will love the naturally moisturizing botanicals and electrifying scent of grapefruit and wild thyme. Your hair will love you.
Natural Body Lotion ($6.99) – the natural moisturizing ingredients lavishes your body with the scent of grapefruit and wild thyme leaves your skin fully moisturized, super supple and touchably soft.
Natural Body Wash ($6.99) – an invigorating citrus scent, this natural body wash is scented with grapefruit and wild thyme for an exhilarating all day feeling.
Trust me when I say you MUST stock up on these wonderful products…I for one already need more of the amazing body wash