When sensitive files need to be deleted, the last thing you want is for someone to be able to recover them. In the age of identity theft, having computer file protection is more important than ever. Emptying the Recycle Bin won't delete files permanently. Even reformatting your hard drive can't always prevent someone with basic computer skills and freely available tools from getting to those files but fear not, both
iolo Technology's System Mechanic and System Mechanic Pro
include a powerful new ally:
Incinerator®
.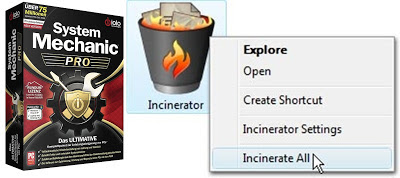 Using security processes originally developed for the U.S. Department of Defense, Incinerator gives you the power to permanently wipe away unwanted files with just a few clicks. That's right, you get Military-strength data removal and virtual file shredding techniques from the convenience of your own desktop.
With System Mechanic, you now have the ability to fully combine the separate desktop Incinerator's strength into your standard Windows Recycle Bin, offering you the ability to empty it (delete files) using low-grade Windows techniques or to obliterate the files using iolo's Incinerator technology. The new Incinerator for Recycle Bin also allows you to keep your desktop clean by using one icon for two jobs. Just drag your files in, and then select Incinerate All to securely remove them.
Remember to be careful when incinerating files, once something is incinerated, you won't be able to recover it.