We have a gentleman on deck today. Please welcome Andrew HoChoy of
Digital Gent
as he takes the role of Guest Blogger for
mylifeonandofftheguestlist.com
and reports on the Academy of Art Spring 2013 Collections from student designers
Stephina Touch, Ginie C. Y. Huang, Yanfei Fan, Jarida Karnjanasirirat, Jie Jessie Liu, Liza Quiñones, Jisun Lee, and Iglika Vasileva Matthews
.
Elle est électrique. Elle est le pouvoir; French for "She is electric. She is power." Two sentences that I feel truly represent the Academy of Art University S/S 2013 Collection. Taking place on Day 2 of Mercedes-Benz Fashion Week, the runway show presented an impressive display of fine French Textiles and keen design sense. Made possible by UBIFRANCE, the students had an opportunity to craft their pieces from a selection of print, silk, jacquard, wool, lace, knit, velvet, corduroy, denim, pigment dyed, and technic/sport textiles – all from prestigious French textile mills. The noteworthy craftsmanship and design work truly showcased the high quality materials they worked with.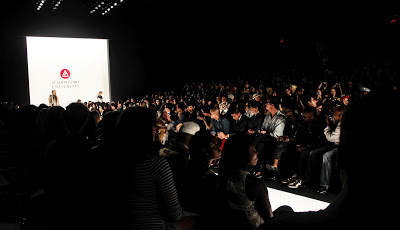 In terms of design aesthetic, the collections seemed to center around the idea of a very bold and confident modern woman. With slick tailoring and some remnants of menswear silhouettes, the models walked with an air of certainty and comfort.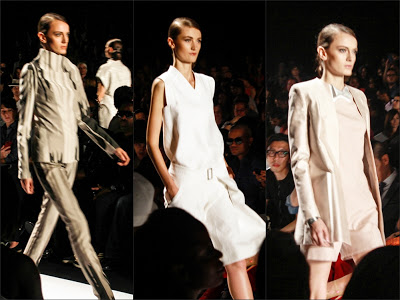 Beyond the shape and fit of the clothes, several of the pieces embodied boldness in a more obvious way. There was a set of brightly colored lime, fuchsia, and mandarin orange garments- complete with wool crepe, organza, and feathers from Ginie C. Y. Huang, a crisp all white color palette from Stephina Touch and a muted metallic finish to Jarida Karnjanasirirat's relief sculptures-inspired collection. Careful to not become too gaudy, the designers used a combination of fine details and refined tailoring to keep the outfits looking modern and accessible.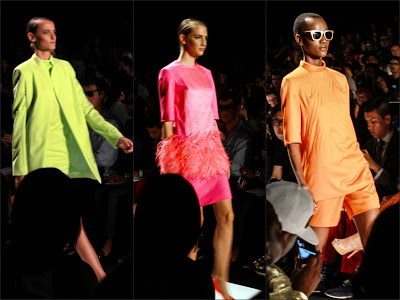 All in all, the student collections brought a youthful vibrancy to NYFW, helping to solidify finely detailed textiles and brightly colored ensembles as trends to be on the look out for next Spring.
Click here to see the full gallery of photos from the Academy of Art show.
EDITED BY GLASGOW SKINNER