The Limited
is turning 50 and doing an amazing things to celebrate this milestone! The company's stunning pieces already helps women by inspiring confidence with their must-have looks but aim to do even more for women. In celebration of its Golden Anniversary, the brand is launching a multi-faceted campaign focused on helping women succeed.
The iconic fashion powerhouse kick-offs its celebrations with a special initiative to support Dress for Success, a nonprofit that offers professional apparel, support and career development tools to women who are entering or re-entering the work force.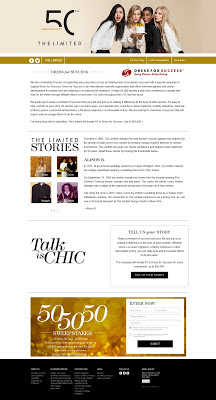 To raise funds for this amazing organization, The Limited is inviting women to share their success stories/life lessons (both personal and professional) online at www.thelimited.com/50th. The company will donate $1 to Dress for Success for every story submission, up to $50,000. Additionally, The Limited is donating 30% of the proceeds from a limited edition clutch and a commemorative bracelet that will debut this fall to Dress for Success.
As part of the 50th Anniversary festivities, The Limited will also launch a social media campaign this August that will allow customers to select the ultimate celebration dress design they would like to see in stores as well as where the anniversary celebration will take place. What are you waiting for, share your story right now.