As the weather gets cooler, I love to indulge in a cup or to of tea. While people go nuts for coffee (including my family who are all coffee lovers), I am a 100% tea lover. I do my own ice tea, I enjoy ice tea popsicles, tea cocktails, I also mix in fruit or fruit flavors in my ice tea for variety or an exotic flavor. When I drink hot tea, I also tend to mix flavors – I love all things tea and love to experiment. One of my favorite tea brands is The Republic of Tea. They have such a wonderful range of premium teas – from
Black
to
Rooibos
,
Chocolate
to
Cherry
,
Pumpkin
to
Apple Cider
, and so on. The Republic of Tea has also introduced a new range of
SuperHerb™ Teas
–
Moringa
,
Jiaogulan
, and
Baobab
.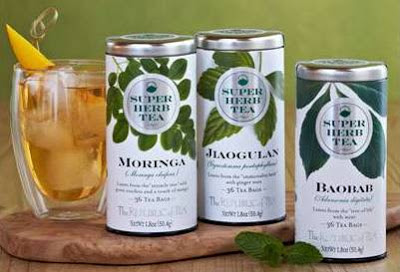 This selection of SuperHerb™ leaf teas features powerful herbs that are known for their healing properties. These ancient herbal plant blends offer antioxidant benefits in their tiny leaves, and The Republic of Tea combines these wonder herbs with enticing ingredients such as ginger root and mint to result in superb tea bags that are as delicious as they are healthy.
Known as the "miracle tree," Moringa (mor-IN-ga) has small, vibrant leaves that have long been prized in indigenous cultures for their healing properties. Sourced from sustainable farms in hot, tropical climates where the trees thrive and are traditionally used as medicine or cooked into soups and stews, moringa is also delightful steeped for sipping. The Republic of Tea combined moringa leaves with green rooibos and natural mango flavor for a sweet, fruity note to the grassy, herbal base.
A wild vine native to southern China, jiaogulan (JEE-ow-goo-lan) is described by local inhabitants as the "immortality herb." Ancient cultures believe this adaptogenic herb, similar to ginseng, could benefit the whole body. Recognized for over a thousand years for its anti-aging, anti-anxiety and antioxidant properties, Jiaogulan is thought in Chinese culture to provide unusual longevity. This fragrant, healthy cuppa is infused with monk fruit, a celebrated natural sweetener, and a hint of spicy ginger root. Refreshing sipped hot or over ice. I love the hint of ginger in this tea and it's a great tasting way to beautify yourself inside and out.
Known locally as kuka, baobab (BAH-oh-bab) is considered the "tree of life" for its massive, drought-resistant trunks that provide shade and shelter in Africa. The earthy, light notes of the baobab leaf are blended with a touch of mint for a grounding, healthy tea experience. Baobab is thought to be an antioxidant in Africa. Traditionally used as a versatile medicine, baobab has a reputation for fighting asthma and soothing inflammation and fatigue.
Are you a tea drinker? What are some of your favorite tea leaves?