At Zang Toi's Spring 2014 Collection show at Mercedes-Benz Fashion Week, models walked down the runway with their typical shoulder length and long hair replaced by
"The Ballet Babe Chignon"
by Eiji Yamane and Rene Furterer. With a stirring opening performance by his muse, American Ballet Theater sensation Cory Stearns, visionary designer Zang Toi sent his models down the runway in his enchanting dance-inspired collection, Ballet Babe. The close collaboration between Zang Toi and hairstylist extraordinaire Eiji Yamane of Eiji Salon resulted in the modern take on the classic and sophisticated ballerina chignon.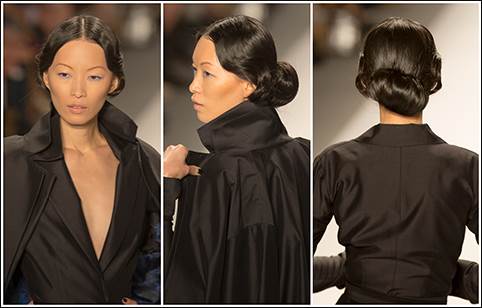 The designer noted "Usually ballet hair is very strict and pulled back. I wanted something more unexpected, asymmetrical romantic waves on the side and a low chignon that was a bit over-sized for more drama so that it doesn't get lost on the runway. With glowy skin and a little blush on the cheek, I wanted a fresh interpretation of ballet hair that's beautiful and elegant."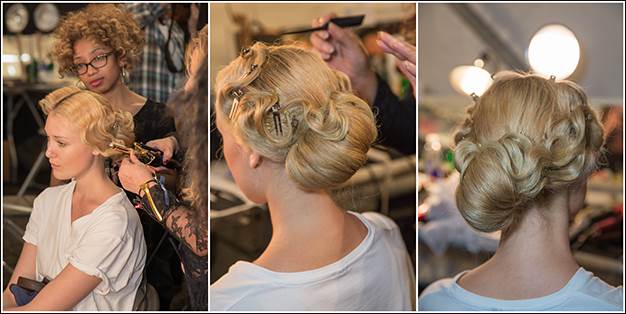 Using René Furterer products, Eiji relied on the versatility of Zang's collection to give his chignons a romantic yet utterly modern elegance. Starting with a clean center part, he mists hair with water before blowing it out. For body and hold, he used René Furterer VEGETAL SCULPTING GEL while blow-drying hair with a Mason Pearson brush to give it a smooth finish.
Leaving hair on the sides free, he gathered the rest of the hair behind the ears and made a low ponytail, spraying hair with René Furterer VEGETAL FINISHING SPRAY. Securing the ponytail with hair tie, Eiji took a section of the ponytail, wrapped it from left to right around the base of the ponytail to hide the hair tie, tucking in a few hair pins for extra hold.
For those sultry finger waves, he took sections of the loose hair from each side of the middle part, sprayed them section with René Furterer Lissea Thermal Protecting Smoothing Spray to protect against heat. Using a medium-barrel curling iron, he rolled each section toward the head, combed through the curl and then crimped it with the curling iron at half-inch intervals to give it more bend. After curling, combing and crimping the sections on each side, the hair was gathered and brought behind the ear, taking care to cover the ears and shaping the section in a classic finger wave pattern securing them with several clips. This section was finished by misting the sides with René Furterer Vegetal Finishing Spray to set the waves.
To create the chignon, Eiji sprayed the ponytail with René Furterer Vegetal Finishing Spray, brushed through the length of the hair with a Mason Pearson brush, made a big loop and rolled it toward the base of the ponytail so that the finished chignon sits on the nape of the neck. He advised that is hair needs a smoother finish, just go over it with a flat iron. A final spray of René Furterer Vegetal Finishing Spray gives the chignon more staying power without leaving it stiff or sticky, Lastly, the waves are unclipped and models are ready for the runway.