Are you or someone you know a huge fan of Obsessive Compulsive Cosmetics Lip Tars? Now you can gift yourself or your fellow beauty lover with a great gift of either a four or twelve pack of the beauty favorite this holiday season.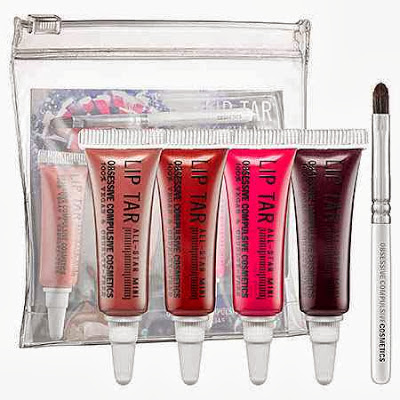 This deeply pigmented liquid lipstick has true staying power and high-impact color payoff in one tiny tube. The expertly coordinated set of OCC's most popular shades is a great new way to share your Lip Tar obsession. It makes a great gift and is a perfect way to begin your Lip Tar collection if you don't have one yet.
The All-Star Mini X 4 Set (shown above) includes Memento, Anime, NSFW, and Black Dahlia and retails for $20.00. The All-Star Mini X 12 Set (which features six metallics and six satins) includes Pris, Lovecraft, Yaoi, Super NSFW, Electric Grandma, Authentic, Clear, Divine, Clockwork, Psycho, Stalker, and Strumpet and will retail for $58.00. Both sets includes an 010S Precision Lip Brush and are exclusive to Sephora with the four pack available now and the twelve pack available October 22nd.