When most think of Couture, they think fashion but the world of couture extends to much more. Couture jewelry is an art form all on its own. Couture Jewelry designers seamlessly fuse old world craftsmanship, modern and contemporary influences into amazing works of art. We recommend you get acquainted with these few of the stunning couture jewelry collections that are taking hold of our attention.
SYNA – featuring natural gemstones with sophisticated craftsmanship, Syna, which means "together", has created many vibrant and exciting collections that are both striking and simple. Designers Dharmesh and Namrata carefully selects each stone for its color and quality and showcases them in the most beautiful silhouettes like the Large all-pave Mogul drop with champagne diamonds, Tassel Necklaces, and Stackable rings and bracelets, some of which are shown below
AS29 – Created with the precision applied to any chemical compound, the collection's name is inspired by the elements of the period table, designer Audrey Savransky's initials, and her lucky number. The pieces are delicate and feminine. Alluring diamond encrusted curves form rings, hearts, and flowers. The necklace pendants hang from slender gold chains while the bracelets are made from vivid colors of the season, using all the colors of diamonds, sapphire, rubies and amethyst available.
AMALI – combining natural elements with knotted strings to form intricate wearable art, linking and mold metal and drawing inspiration from the natural landscapes and vibrant textiles that colored her travels, designer Sara Freedenfeld has created a line of jewelry that delicately unites the natural simplicity of handcrafted artistry with the sophistication and glamour of high fashion.
VICTOR VELYAN – influenced by the old Aragon world (autonomous communities in Spain), architecture, music, nature, travel, unique cultures, history and fine art, jewelry designer, Victor Velyan combines metals and conglomerations of various gemstones. Diamonds accent his pieces to make bold statements. Also influenced by Africa, its people, its nature and especially the animals, Veylan presents a couture jewelry collection brimming with exotic glamor.
JACQUIE AICHE – With a collection that boasts the very best of 18 and 14 karat gold and sterling silver, fresh, young jewelry designer Jacquie Aiche adeptly blends diamonds, rubies, emeralds and pink tourmalines with organic materials such as minerals, rocks, and fossils to create her elegantly unique pieces. Blending elements from her unique background (her father is Egyptian and her mother is American Indian) and her own personal style. We see pieces fit for goddesses; amulets and hammered gold integrated into contrasting natural minerals, gemstones, turquoise and fossils, all of which are reminiscent of the Native American jewelry of her mother's heritage.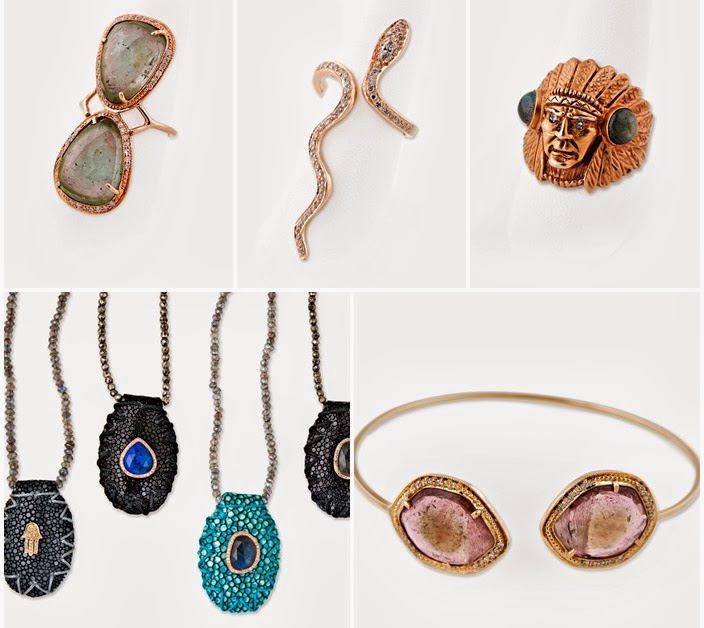 We're sure you'll love these couture jewelry collections, the question is, which are your favorite pieces?