Sometimes while researching online for a story, you can get a bit distracted by fabulous fashions…at least that's what happened to me. I ended up enjoying a little virtual shopping when I should have been working and came across the following great tops from ModCloth. Check out just a few of the tops that distracted me:
I'm a romantic at heart and the black piping along this dark green tee's rounded collar, heart-shaped button and sweet scoop neck of this Sock Hops and Dreams Top captured my heart. It's just so darling and shows that simple can be chic. Get it for only $37.99 HERE.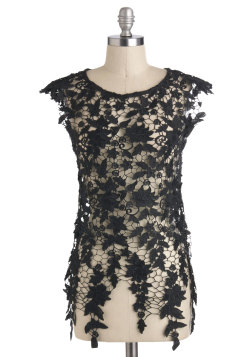 For a look that's a bit more daring, the black Fashionable Finesse Top features perfect cut-outs and a hem of cascading blossoms that can be layered over anything. So if you're looking for a layering piece to add a touch of wow to a basic tank or tee, this $79.99 top is for you. Grab it in black or red HERE.
Peplums are still so hot right now and they flatter every shape. The last three styles I'm drooling over (including this one) are peplum style tops. Featuring a beige satin lining, sheer lace on the back and shoulders with solid black side panels, the Samba Showcase Top is flawlessly chic day or night and a steal at only $26.99. Get it HERE.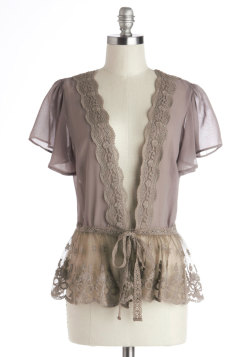 Peplum styles are not only reserved for classic tops, this darling To Quiche Their Own Cardigan features gossamer-sheer fabric, intricate lace accents, and delicate waist ties that ooze sophistication and femininity. Layer over just about anything for that extra touch of innocent sensuality. Get it for $54.99 HERE.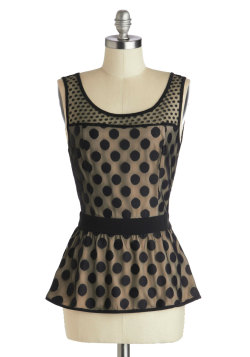 Last but certainly not least is the Dupont Circles Top, a sheer, black, sleeveless mesh overlay featuring both large and small polka dots, a classic round neckline and a relaxed peplum. Lined in a neutral fabric with deep V in the back, this $49.99 top is a definite must-have this fall. Grab it HERE.