As any beauty lover will tell you, you can never have enough products and getting to know the newest beauty brands and trends is a must. This is why I love monthly beauty subscription boxes; they are a great way to not only learn about but sample new beauty products and brands. Whether it be old favorites or brands you've never heard of, this is a great way to enjoy them.
Today we discuss a new-to-us subscription-based, beauty sampling program, Beauty Box 5. This turquoise box is filled with 5 cosmetic samples to your door every month and hopes to introduce you to new cosmetic products, educate you on best practices and find the best products for your lifestyle. With Beauty Box 5 you can expect a mixture of luxury, commonly known brands, niche brands, eco-conscious and even vegan brands. This is my first (hopefully not my last) box from Beauty Box 5.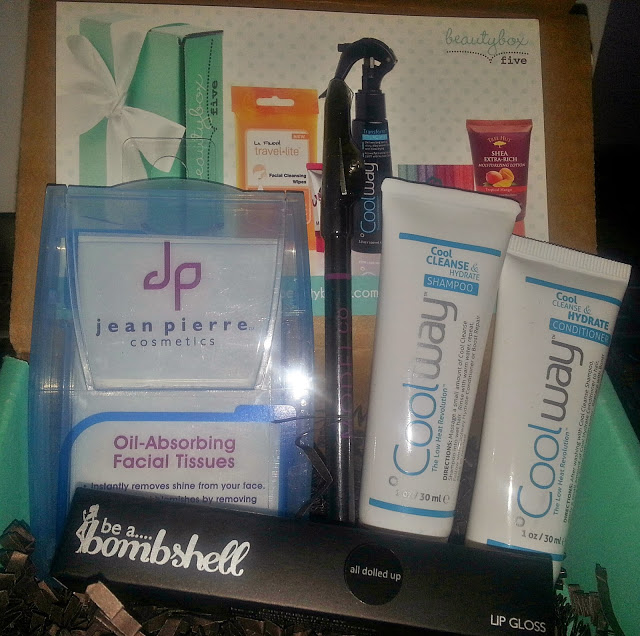 First, thanks to Beauty Box 5, we were introduced to four new beauty brands we were not previously familiar with – a huge thumbs up for that. We've tried three out of the four (we will be testing the °Coolway Shampoo and Conditioner this weekend) products. Here's our take on the products used:
Oily skin has been an issue for as long as we can remember so blotting sheets are a must. While we usually stock up on boscia, it was great to try the Jean Pierre Sheets, there was no powdery residue left behind plus we love its carrying case.
We loved the slight gold shimmer in this coral-pink be a bombshell cosmetics Lip Gloss and it actually lasted through a full cocktail.
The ModelCo Cosmetics Colour Box Eyeliner went on smooth, didn't bleed or feel dry…we're happy.
From what we've seen, we'd definitely add Beauty Box 5 to our monthly beauty subscriptions. If you sign up by November 30th, you can receive your first beauty box in December and your order also comes with a giftcard to Soap.com. Get to know more by clicking https://www.beautybox5.com/get-the-box.
Have any of you guys tried this service? What do you think?