We're suckers for all things romantic (really sappy movies and commercials – yes some of those get us too – can sometimes test our waterproof mascara) and while we're generally annoyed (re: jealous) by public proposals, we have to admit that this is a pretty cool way of getting proposed to, especially if you're an avid gamer.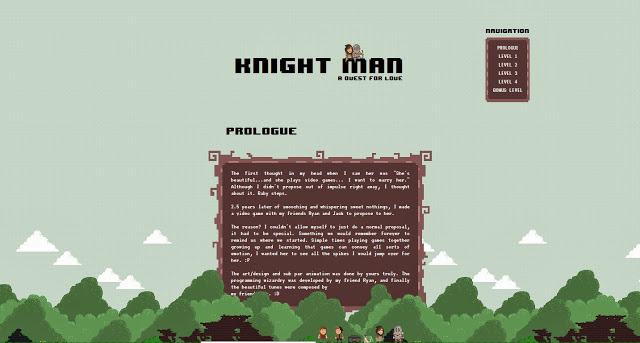 Robert Fink, an artist from Portland, Oregon aka Knightman proposes to Angel, his Wicked Princess via a game he designed on the Gaming console OUYA. OUYA allows any developer, big or small, experienced or new, paparazzi-famous or up-and-coming, to easily build games for the big screen – and every game is free to try. Ladies, be prepared for the onslaught of tears as Lana del Ray's aptly chosen "Video Games" plays while Angel tries to win enough points to rescue the princess and to her surprise proposal (…as for you guys – sorry if your girlfriend is giving you the side eye or you're beginning to feel the pressure.
The project took him five months to complete and tells the story of a white knight who tries to save a princess via a series of challenges. Fink even designed a website (you can see the screen shot above) that resembles the vintage-looking game which gives the full story of their non-virtual love story. Check out Angel playing the game and her reaction below (are your tissues ready?):
We must note we found one part kinda hilarious – at the end when her points filled up the heart to 86%, it said "You can do better". Hope that doesn't mean anything. Anyway, Fink gets major points on creativity (and that this isn't another flashy dance blitz proposal) and integrating digital into the romantic world. Now excuse us while we drown the sorrows of our bare ring finger into a pint of ice cream. Congrats to the happy couple.