What do you get when a renowned perfumer and founder of an event-based group of fragrance aficionados that unites perfume enthusiasts from around the world? You get an exquisite fragrance that mesmerizes the senses. Master Perfumer Sarah Horowitz, along with Sniffapalooza founder, Karen Dubin introduces
Midnight Promise
, a new fragrance that celebrates the confidence, strength and elegance of women.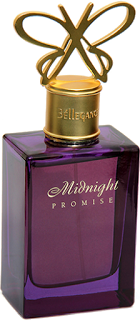 It is said that midnight is "the magical hour when anything is possible" – the bewitching hour. With this enchanting combination of sweet and spicy, aromatic blend of notes, the Midnight Promise Eau de Parfum, is sure to entice.
Top Notes: Red Mandarin, Cinnamon
Heart (Middle Notes): Red Moroccan Rose
Base Notes: Amber, Vanilla Musk, Incense, Oak Moss, Fresh Vetiver, Soft Patchouli, and Sandalwood

Midnight Promise is bottled and manufactured in France. A 2.5 oz (75ml) bottle is available for a retail price of $105.00 at belleganceperfumes.com.