Summer time is both an enjoyable and frustrating time for us. On one hand, the weather is beautiful, there's so many wonderful things to do, and of course the amazing summer fashion and beauty launches. On the other hand, it can get too hot, extremely humid and since we spend more time outdoors, we get exposed to the dirt and grime of the city……bad for our skin. Having an arsenal of beauty products is essential for optimal beauty survival, as well as keeping our skin and makeup looking fabulous during the summer. We are currently relying on beauty products from
Bullet Pocket Acne Aid, Skindinavia, Boscia, and Sun Bum
, to keep our skin summer ready: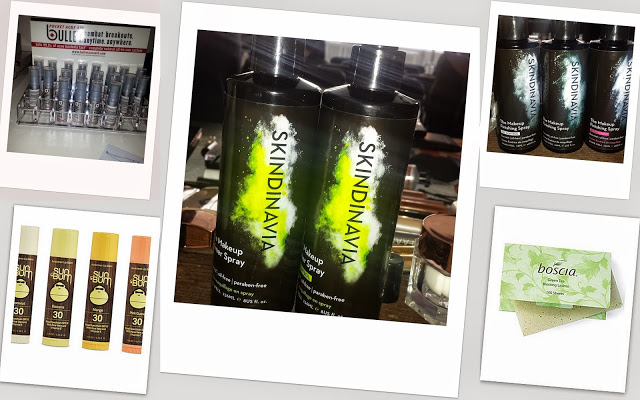 Skindinavia Primer Spray & Finishing Spray – keeping your makeup looking fresh can really be tested during the summer months. The heat and humidity can have your makeup running down your face, which is a disaster for any beauty lover. With the genius primer Spray and Finishing Spray from Scandinavia, your makeup (even lipstick – say goodbye to bleeding) goes on flawlessly, holds perfectly, and lasts for hours – even in the most horrible humid conditions. Both products take seconds to apply and the result is a day of impeccable makeup.
Boscia Green Tea Blotting Sheets – If your t-zone is cursed to shine on like ours, having a pack of these shine controlling Green Tea Blotting Sheets. Made from 100% natural Abaca Tree fiber, and infused with soothing Green Tea extract, these miracle sheets absorb excess oil and reduce shine without disturbing your makeup.
Bullet Pocket Acne Aid – excess oil, humidity and the city's dirt and grime can clog up your pores and cause acne, so having a one-step, all-in-one, acne fighter on hand is a must for those surprise outbreaks. This small but potent acne aid is small enough to fit in any bag and even your pocket, it kills 99% of bacteria, and can be used either under or over your makeup.
Sun Bum SPF 30 Lip Balm – as far as sun protection goes, we tend to ignore the skin on our lips. Aloe and Vitamin E will moisturize your lips while SPF 30 will protects it from sun damage.
While we certainly have more products that are essential to summer survival, these are the ones we currently can't leave the house without. We'd love to hear what products you're loving this summer, so feel free to share your summer beauty favorites.