The countdown to the holiday season has begun and the time for finding great gift ideas for friends and family is almost upon us. We begin the gifting season with a collection of jewelry gift ideas from
The Artisan Group
, an exclusive group that gives artisan makers of talented jewelry and accessories the opportunity to showcase their stunning, hand-crafted products, most of which has found homes with some of your favorite celebrities. We were very excited to highlight a few of these wonderful hand-crafted products that any jewelry lover will love as gifts. Whether you're looking for necklaces, earrings, bracelets, rings, or all the above, these designers are sure to have what you're looking for plus you'll be supporting small, artisan-owned businesses, and that's always a good thing. Sometimes, small businesses may be priced a little higher than usual, but that is because they have to fund all of the equipment themselves, and they are trying to make a small profit too. For these jewelry makers, one of the best tools they have is a
drill pressing metal
tool that allows them to add holes into the pieces of metal for any chains that need to be added to the jewelry. The business owners need to make a profit to ensure they can keep growing their company.
BRACELETS

Ryan Bracelet by 2 Sisters Handcrafted, $126.00 – Give a truly personalized gift with 2 Sisters Handcrafted. We love the modern details and cool factor of these pieces. Any item you want can be custom made, and a one of a kind jewelry creation to your vision. Go beyond just dates and initials, choose everything from the materials used, size and loving message to that special someone.
Lokum Bracelet by SariBlue, $35.00 – Have someone who loves Bohemian jewelry? Then get to know the everyday jewelry pieces from SariBlue. The mystical, earthy collection is focused on the power and theory of The Evil Eye. We love the stackable Lokum Bracelet for its message and Turkish beads available in various colors.
Budding Lilacs Bracelet by J. McConkey Photos and Wearble Art, $40.00 – Ever look at a beautiful photo and wish you could take its beauty with you? Now you can. Jude McConkey captures stunning beauty in her photographs and uses them to create dynamic jewelry with both etchings and photography plates.
She Believed She Could Bracelet by Woobie Beans, $44.00 – Give the gift of inspiration with these metals and stamped jewelry and accessory pieces. Created by a wife and mom, Woobie Beans offers great gift ideas for women, men and your Christmas tree.
NECKLACES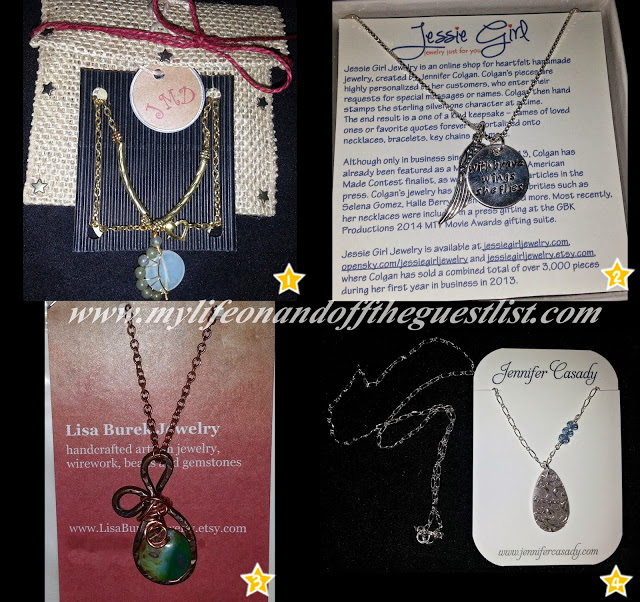 EARRINGS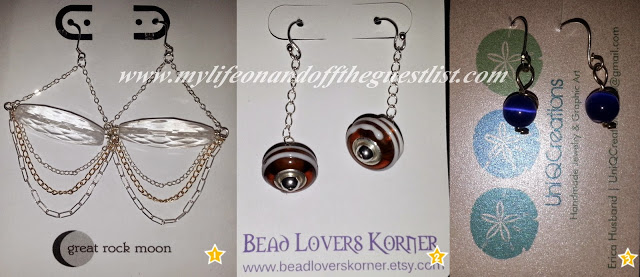 Harmony Mixed Metal Quartz Crystal Earrings by Great Rock Moon, $25.00 – Look no further than these beautiful modern designs with semi-precious gemstones such as quartz crystal, sterling silver, and 14-karat gold plate for an upscale look with an edge.
Brown Dwarf Celestial Orb Earrings by Bead Lovers Korner, $28.00 – As the name states, if you love beaded jewelry, these stunning pieces are a must-see. Offering scores of jewelry option from from simple to elaborate, sophisticated to quirky (we love the beer, wine and cheese bucket, and Starbucks coffee cup beads), Bead Lovers Korner is a great place for limited edition pieces.
Cobalt Blue Cat's Eye Earrings by Uni Q Creations, $12.00 – Another handmade jewelry designer that is perfect for those who love small and dainty jewelry pieces. These delicate pieces boasts handmade sterling silver ear wires, woven hemp, and embroidery floss.
The above is just a handful of what you can expect from the artisan jewelry designers from The Artisan Group. We invite you to get to know their collections we're sure you'll leave their sites owning a few pieces for yourself.