We're always ready for the new, must-have style in any fashion category, that's why we love highlighting up-and-coming designers. Although we haven't attending this in a long time, we have to share this wonderful event which puts the spotlight on the newest crop of handbag designers. If you love designer handbags and want to see the latest in innovative handbag styles, get yourself to the
9th Annual Independent Handbag Designer Awards
on Wednesday, June 17th at 8pm the SVA Theatre, located at 333 W 23rd St, in New York.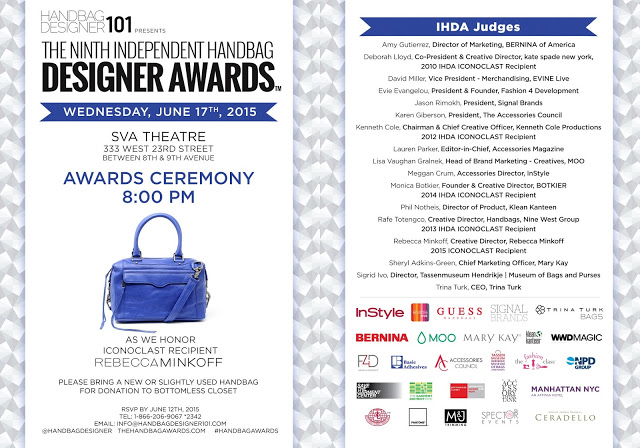 Winners across multiple categories will be awarded brand-bolstering prizes, like a feature in the September issue of InStyle, a top event sponsor, a partnership with Guess, Mary Kay Cosmetics, and Trina Turk, with the winner of "Best Overall" receiving his or her own feature on the digital commerce platform, EVINE Live. Along with showcasing the works and videos of the 40 handbag designer finalists in eight categories, the event will also honor Rebecca Minkoff with the 2015 IHDA ICONOCLAST Award.
Tickets for the event are $75.00 each but for those who cannot attend, you are invited to vote online at InStyle.com, to select the Audience Fan Favorite now through June 12th.