Are you a last minute gift shopper? We confess we are too, so we'll be sharing holiday gift ideas until the very last minute. The beauty of the holiday season is that you have access to lots of last minute gift ideas that your friends and family will love. Today we're sharing gifts for the tech-lovers and gadget fiends in your life. Today's holiday gift guide features gifts for the gamers, gifts for music lovers such as this Spotify Glass Code Music Plaque, gifts to make tech lovers lives easier, and gifts for the gadget lovers who love design. If you are not a tech lover yourself, it can be tricky figuring out which brand of technology will be the best. While you may want to consult an expert, like those specializing in gaming keyboards at Mech Keybs for example, we've put together a list of this year's technology must-haves to make things a little easier. So sit back, relax and see who on your holiday gift list would love these gifts for the tech-lovers.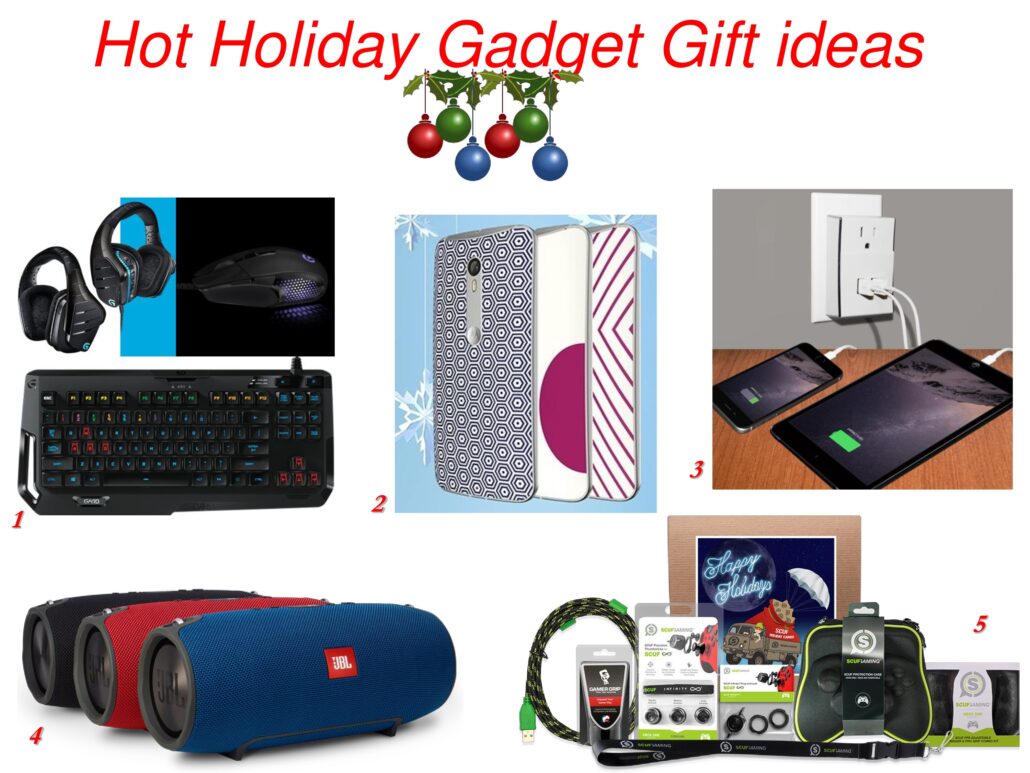 Logitech G Gaming Accessories – we showcased these awesome Logitech G gaming tools a couple of months ago and we can absolutely tell you any avid gamer will cherish these three must-have gaming accessories. Give them the upper hand with the following gaming gadgets:

G933 Wireless 7.1 Surround Sound, and G633 Artemis Spectrum RGB 7.1 Surround Gaming Headsets, $ 199.99, and $ 149.99 respectively

Moto X Pure Edition designed by Jonathan Adler, $474.99 – iconic American designer Jonathan Adler gives this exceptional mobile device standout new looks with three exclusive back designs including the Honeycomb, Half Circle, and Bridget designs.
Amzer Dual USB PLATE eXtender Power Wall Charger, $22.95 – need extra USB slots to charge your devices? With the Amzer PLATE eXtender Power Wall Charger, you can turn any standard outlet into two USB ports and a single standard outlet.
JBL Xtreme Splashproof Portable Speaker, $299.95 – an ultimate portable Bluetooth speaker that boasts our active transducers and two visible JBL Bass Radiators, a massive rechargeable 10,000mAh Li-ion battery for up to 15 hours of playtime.
SCUF Gaming Infinity1 Holiday Gamer Bundle, $59.95 (on sale) – Does the gamer on your list have an Xbox ONE console? This holiday gamer bundle features a SCUF Xbox One protection case, 10 ft. charging cable, thumbsticks kit, Infinity1 & ring and lock kit, FPS Grips kit, SCUF lanyard, and a GamerGrip Gaming Edition.
Minecraft server hosting software – Many gamers, especially kids, love Minecraft for its world-building capabilities. However, your typical home computer often doesn't have the necessary computing power to process the huge worlds that can be built in-game, which can be frustrating for the experienced Minecraft lover. Server hosting, however, increases speeds and customisation capabilities, making the gaming experience much more enjoyable. It also ensures no data is ever lost, which is the ultimate nightmare for any Minecraft player.
So as the countdown to Christmas looms in the air, make sure you are ready for everyone on your list, especially those who love all things tech. Happy holiday shopping!