We are back with another restaurant review, and this time, we make a short trip to a Mexican foodie haven known as La Gringa Taqueria, a Cali-style Mexican restaurant that offers delicious fresh food, awesome events, and free activities, mainly in their Brooklyn location, soon to be available in their West Village location, which is where we dined on this evening. The West village is the second location of La Gringa Taqueria (seconds away from the Christopher street/1 train station, at 82 Christopher Street), the first and most known being the Williamsburg, Brooklyn location. If you've ever found yourself traveling outside your borough and trekking to Brooklyn to partake in La Gringa's delights, know that there is a location closer to you. Let's get to know the West Village location, shall we!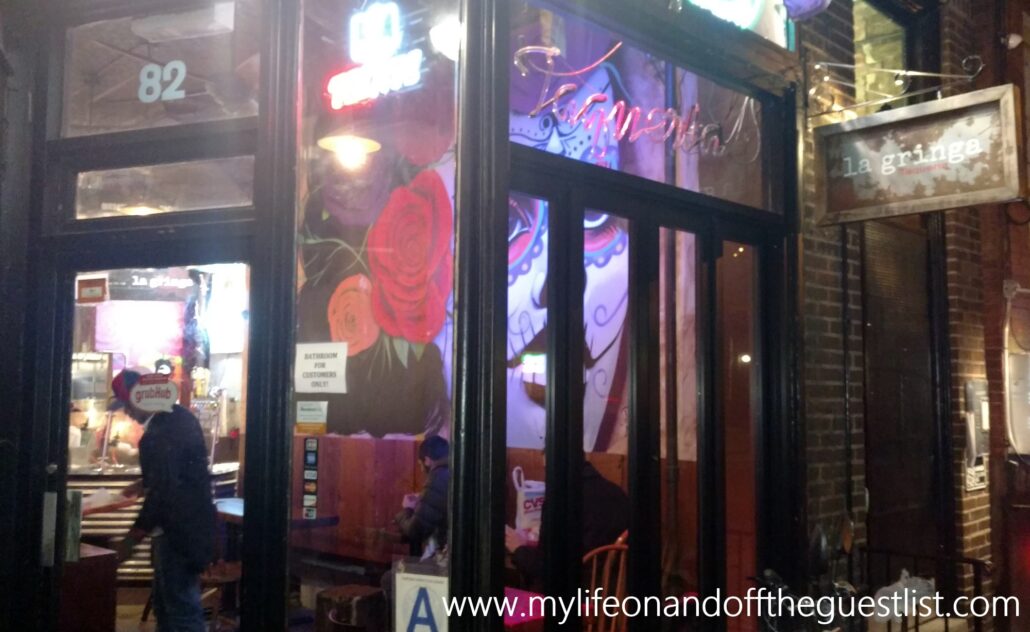 My contributing writer, David and I wanted to fully enjoy the entire experience from beginning to end, and that included enjoying a few drinks before we begun our foodgasm journey. While La Gringa does offer Margaritas, and a variety of Mexican brewed beers, we didn't want alcohol to alter the taste of our meal (of course we must go back for those margaritas), so we indulged in only non-alcoholic beverages for the night.
DRINKS AND BEVERAGES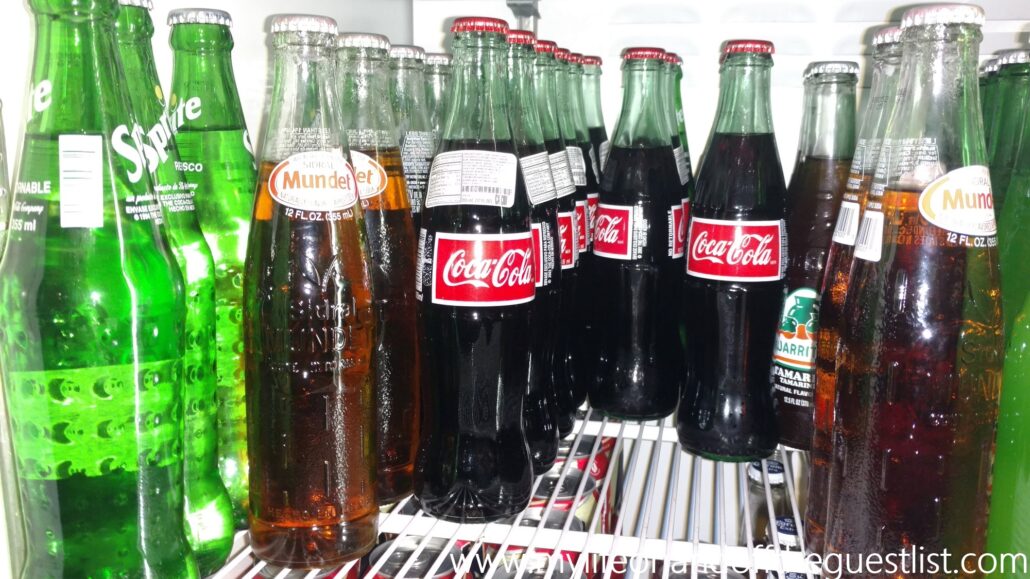 David: I had a Mexican coke. Remember in the 80's, I may be dating myself when those awesome Coke commercial featured people quenching their thirst with a cold-sweating tall glass bottle of Coke? Well before this country got all penny pinching on us, Coke was made with real sugar and they still make it like that in Mexico, hence the moniker of Mexican Coke. And you really do taste the difference between real sugar and high fructose corn syrup.
Glasgow: Remember that scene in Forest Gump when he had 15 or so Dr. Peppers at the White House? That was me with the Mexican Coca-Cola. I grew up drinking sodas (including Coke, and Sprite) sweetened with sugar cane instead of the Aspartame Coke is now sweetened with, and trust me when we say it tastes infinitely better. I happily overindulged in my favorite childhood soda, and only took one brief break to enjoy a Tamarind Jarritos. As I'm writing this, I could go for one or two Mexican Coca-Colas.
GRILLED CHICKEN NACHOS – 1ST COURSE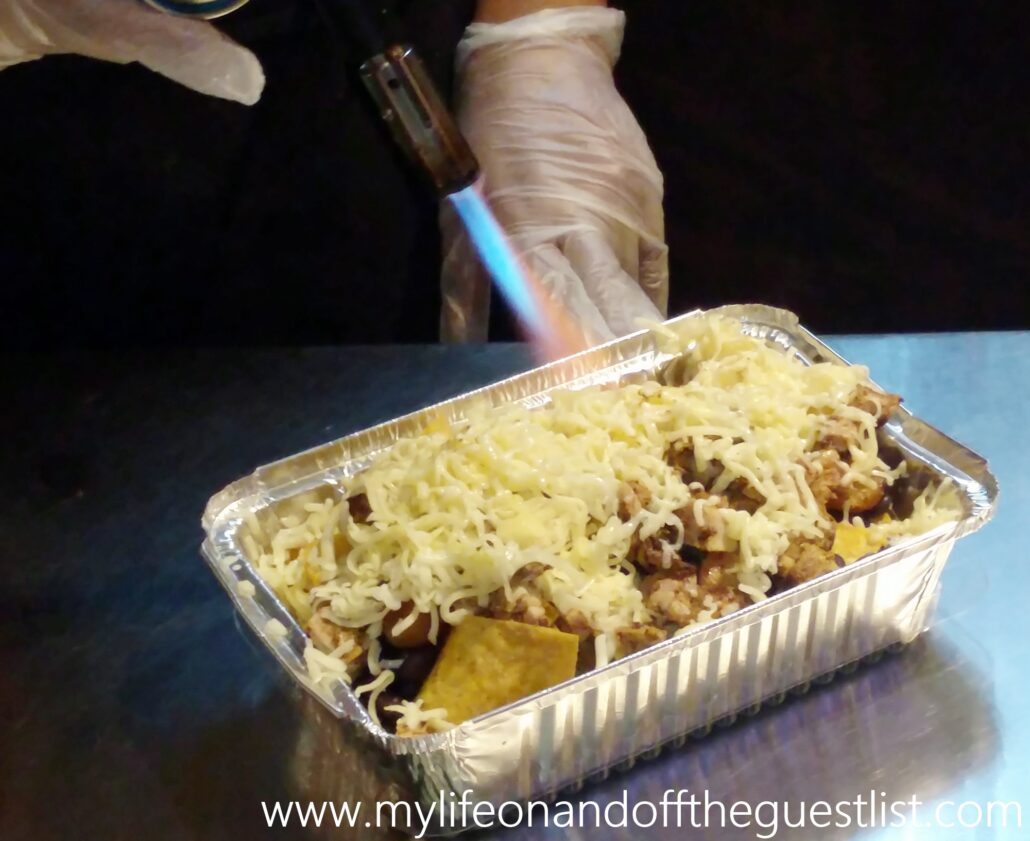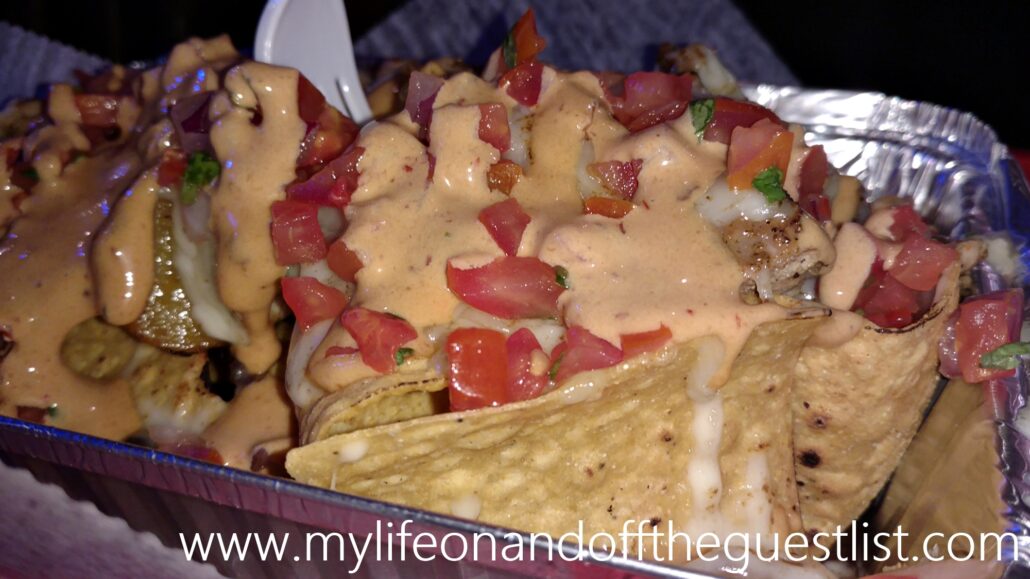 Glasgow: There are nachos and then there are La Gringa Taqueria Nachos!! If you're looking for layers upon layers of deliciousness, you should absolutely have this uber-layered delight with orgasm levels of foodie pleasure in every bite. We opted for the grilled chicken Nachos, a delight to the palate and senses. Preparation of this dish is both a visual and aromatic thrill. Aside from the crisp corn chips layered with succulent meat, fresh pico de gallo, black beans, and sweet plantains, the final touch included a topping of torch melted Monterrey jack cheese that added a rustic roasted/charred taste from the flambé torch. I'm so happy I chose this as my meal starter. Check out some video of my nachos getting the flambé torch treatment.
BURRITO – 2ND COURSE

David (Pulled Pork Burrito): Take all the flavors south of the border and wrap it in a warm tortilla. The steak was seasoned with just enough salt and spices. Meanwhile, the seasoned rice, black beans, tomatoes, cheese, special tomatillo sauce and my favorite addition of sweet plantains all served to not overpower the wonderful pork but complement it with an explosive flavor profile that was hearty and satisfying.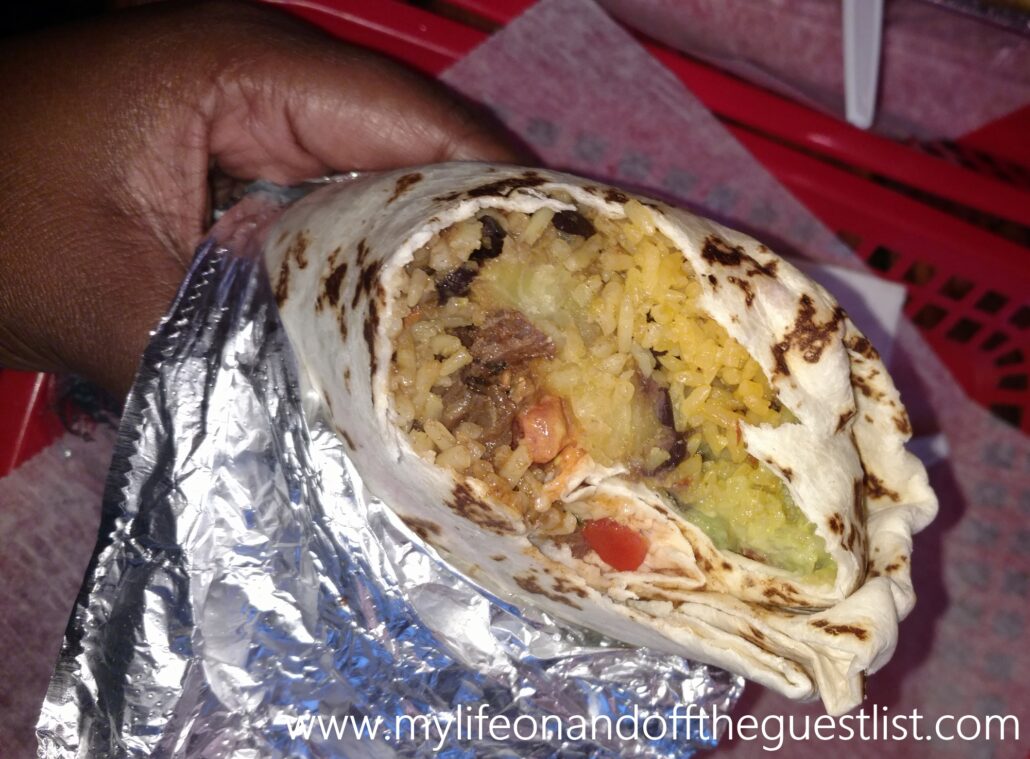 Glasgow (Steak Burrito): Never again will I be laissez-faire about my steak burrito or any burrito for that matter. The eruption of flavor I enjoyed while devouring the wonderful combination of perfectly seasoned steak, yellow rice, and sweet plantain (a surprising and very welcome touch of sweetness which paired perfectly with the hot Picante sauce I topped the whole thing with), made me see the light of what a delicious burrito should taste like. I'll be forever under its delicious spell.
STEAK QUESADILLA – 3RD COURSE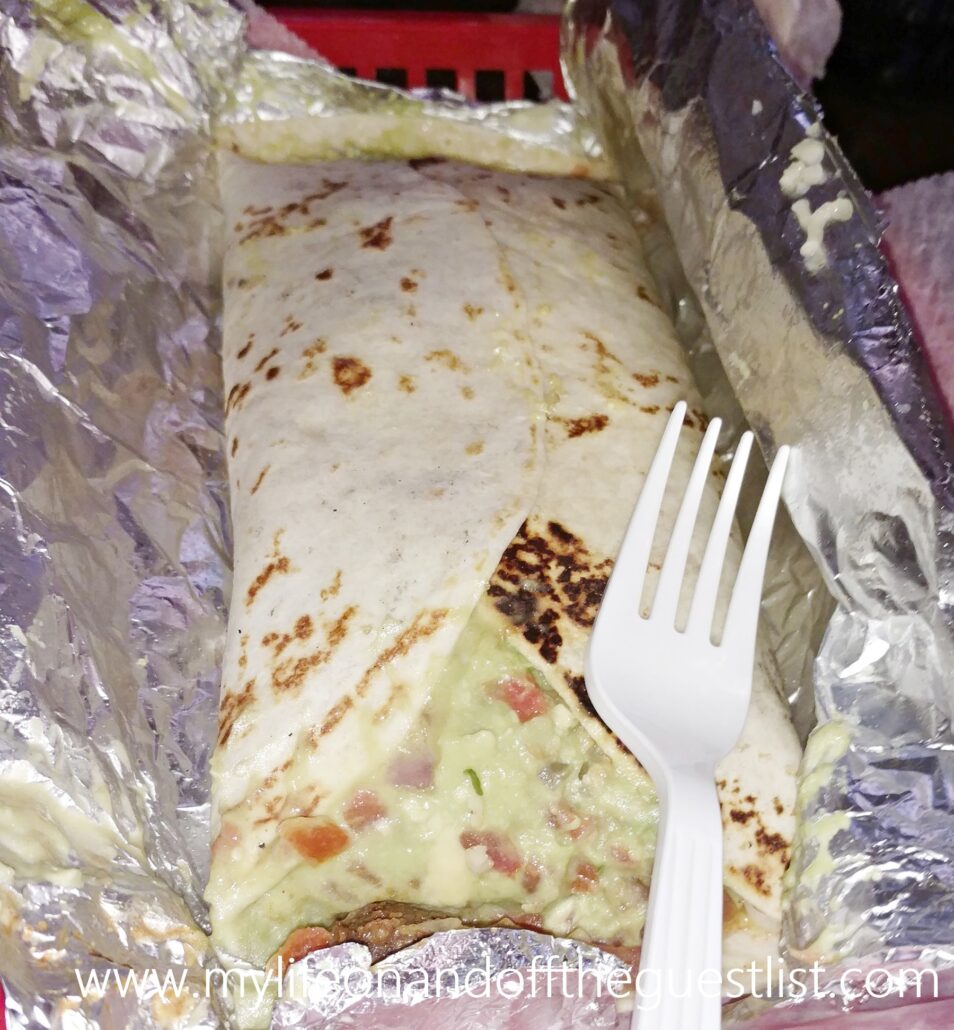 David: There's something about beef with Mexican seasoning that just marries so well together. When the mounds of fresh queso were added it was kismet, but the topper was the winner. The preparer used a blowtorch to melt the layers of cheese down to gooey perfection that ran in between the layer of steak with lovely melted ease. When topped with a spicy fire-roasted Picante sauce and the other warm tortilla I knew the flavor would be simple yet impacting, and it was. The hot sauce mingled perfectly with the warm seasoned steak and the smokiness of the fresh-torched cheese unified all the flavors together in holy matrimony. Another simple but flavorful dish that tasted familiar and satisfying.
THE SETTING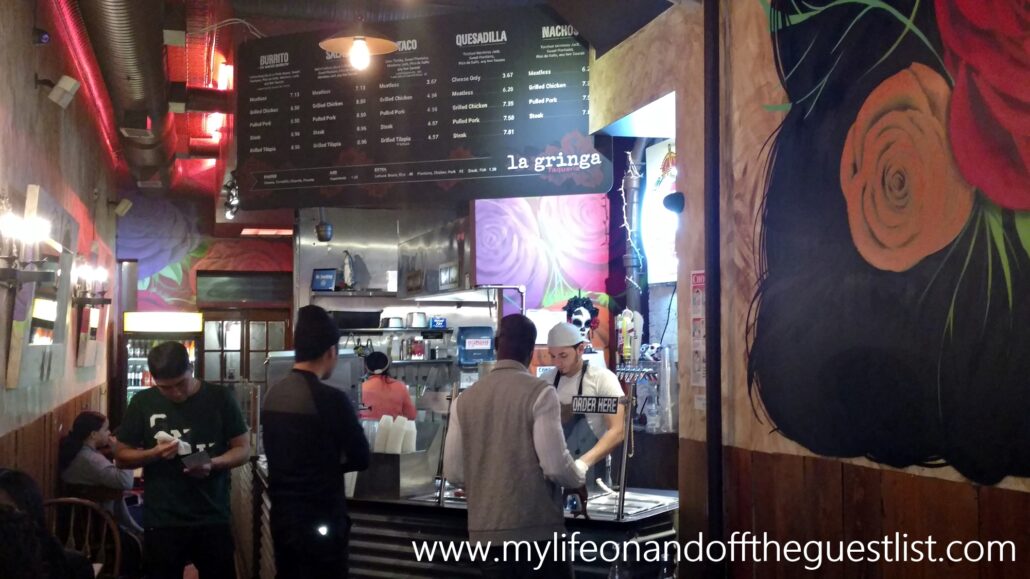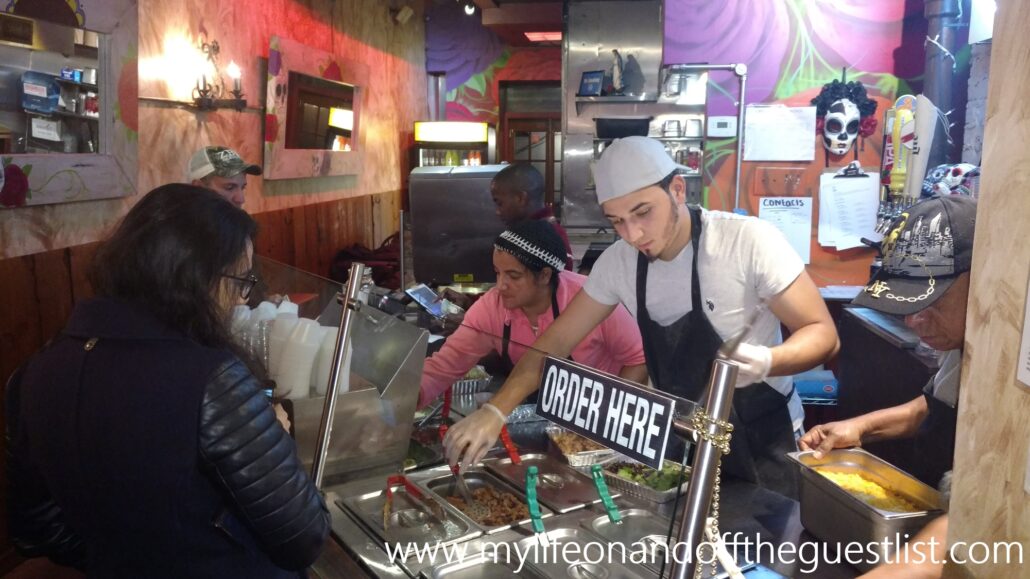 David: So tucked away on an infamous but quiet street in the West Village is the really quaint little taqueria spot called La Gringa. As soon as you enter it feels like you're about to have some authenticity going on with the menu. The walls were ornately decorated with a mural-sized painting of Mexican motifs and popular symbolic figures in full, and I must say pretty amazing, vivid color. They must have had an expert mural painter create that display of art! It was really a page torn out of Mexico City with the rustic tables the array of colors and of particular note, the bottle opener at the front of the establishment that was kind of like a nod to "hey its old fashioned and rustic here, we give you authentic and not mass produced, so you can open your own bottle and not be dismayed by a syrupy fountain soda.
Glasgow: I love quaint restaurant locations. I always find that small or "hole in the wall" locations have the best food, and I wasn't disappointed at La Gringa Taqueria. I sometimes find restaurants in the village a bit watered-down, so it was great to see this beacon of refreshing artistic pleasure. The interior is alive with the wonderful work of local mural artist, Danielle Mastrion, who perfectly captured the essence of the Day of the Dead in her artwork for La Gringa. It also boasts rustic wood tables, chairs, and benches curated by the owner, and a sense of being tucked away, which made La Gringa feel homey. Customers are not rushed and we got the sense of being welcomed for hours. It's a great place to escape and savor your meal.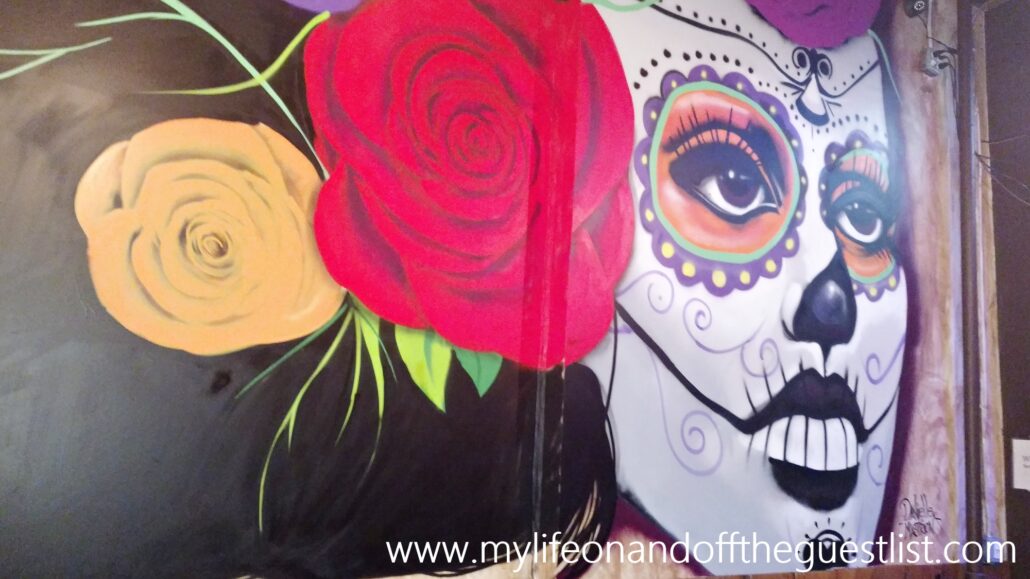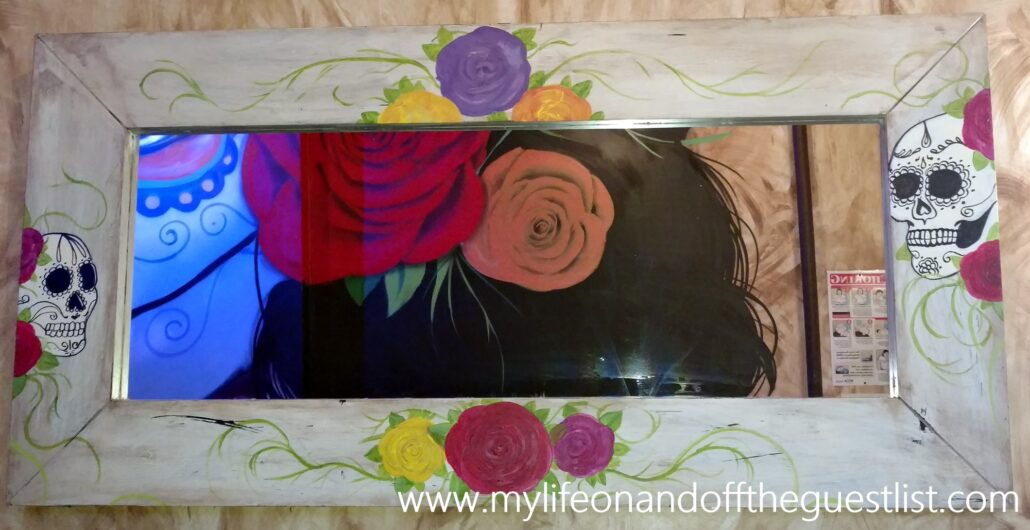 All in all, it was a fantastic gastronomy experience that I hope to indulge in again very soon. We advise anyone who's not familiar to get acquainted asap. For those who have been to La Gringa Taqueria, what was your favorite dish?