Hello ye few but faithful……
I know I haven't updated this in a while (don't worry I will soon). I've not only been sick but I'm also playing hostess to my cousin who's visiting (she was previously mentioned in the PUMA Event post as the recipient of the PUMA bag I received). And the girl has been putting that bag to some good use. She has used it everyday since she's arrived. By the way I've finally been able to get a proper photo of the bag – named the Kick Barrel(the time you have on your hands while you're sick)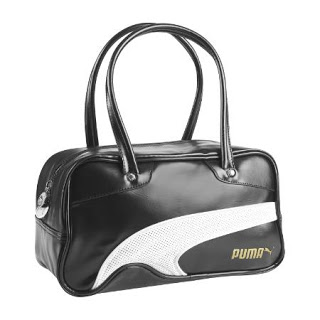 Anyway, she recently discovered DSW and now has a very cute pair of patent leather Nine west booties to go with the bag.
I, on the other hand have been lucky to be sick, why you may ask? Let's just say I see a future of the nursey rhyme, "there was an old lady who lived in a shoe…" in my future. I purposely stay away from DSW and the 5th floor at Macy's, not to mention the shoe floor at Saks that has it's own zipcode (I was invited to the opening event, that's the last time I've been there). As I mentioned before, I have an upcoming trip and it's best to actually have the money to pay for things like my hotel, breakfast, lunch & dinner, shopping, etc.
But I still have to take my cousin around because she basically came here to shop. So while,s he shops, I tremble. To go to Macy's with her, I had to leave my card at home and I'm so happy I did because I cam across these beauties from Nine West.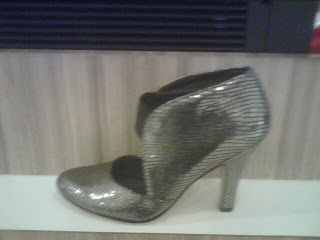 But fate is cruel, as they were on sale for $45 (originally $90 – my face fell on the floor and rolled away) and of course not in my size (only 6 1/2)and it seems only Macy's has that fabric because Nine West only has the black or grey suede….lovely
Then there were these from Go Max (adorable)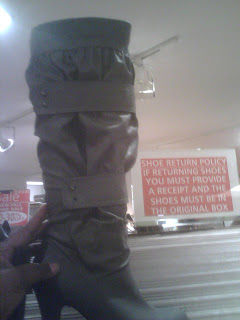 Again, on sale and they were the last ones there (size 7). I know, I know, the universe is telling me to save my money for my trip but damn, I will need shoes when I get back and these are on sale. Why tease me like that!
I also saw another pair at Macy's for $84.99 and they had them in my size but the guilt was just too much (I couldn't even bring myself to take a photo because I didn't want to torture myself). I did out them on hold for 24 hours though but my hotel will cost alot, so I didn't go back to get them. I need all the money I can get my hands on with this damned economy.
Anyway, I stayed home yesterday and I'm happy I did as I'm feeling so much better today. I thank goodness that my cousin knows someone here that can take her to various places while I'm recovering. I can't wait to get out to the events again. And there are a few coming up.