Today started easily enough. I went to work, yada, yada, yada, etc then met up with my visiting cousin. This is where the problem, as I said she's on vacation, which means tons of shopping. Remember the tall grey Go Max boots from my last post that I didn't buy? Well, I still didn't buy them……I bought the purple. I know what you're thinking, why. All I can say is I have a problem with shoes. I know I'm going on vacation soon and that I need as much cash for that in this crumbling economy (or maybe not, you have your own problems) but they were so cute and only $50 and they had them in my size. How could I not? Anyway, I wore them today, what do you think (not the best photo but it looks awesome one, I got so many compliments today)? (I must say that on, I much rather them scrunched down than their full length, it looks better and I get the right 80's look).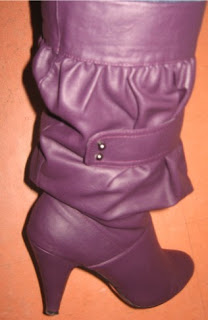 Anyway, back to the date of actual purchase (yesterday, Oct. 9th). After running after my cousin to Forever 21, Strawberry, etc (thank god we stayed away from DSW). We jetting off to the Siwy Denim Trunk Show featuring designer, Michelle Siwy who I unfortunately didn't get to take a photo of at The Shop (a very adorable shop by the way).
The chandelier alone was too cute for words, so I took a closeup (not very clear but you get the beauty of it)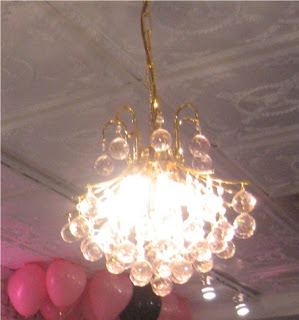 Anyway, the trunk show was very fun and relaxed. My cousin and I met up with Kim there (she was keeping me updated on the gift bag while we were on my way). We arrived to Izze Beverage Cocktails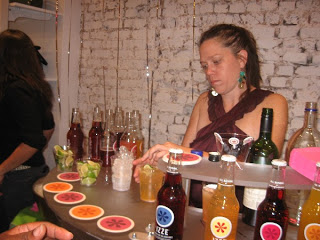 and it seems an unlimited supply of cupcakes. Everytime we (by we, I mean all the guests, not Kim, my cousin and I) finished a plate, more would continue to pop up.
Which is fine because I know I am not going to be wearing a pair of these anytime soon.
My things will never be enclaved in those, I would never do that to myself. So more cupcakes it is. I did find some things I liked but I made sure I didn't even look at the cost (vacation, vacation, vacation, besides I already spent money I shouldn't have). Anyway, my favorite piece was this coat (it had me drooling)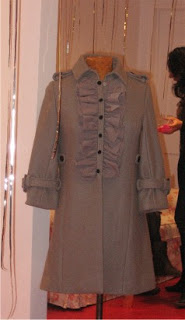 There was also this really great red bag (again, didn't even get close to the price tag).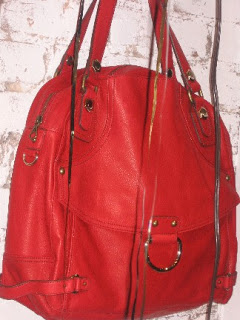 Anyway, Kim, my cousin and I enjoyed more cupcakes, cocktails and great conversation, we even took photos (by the events photographer). Before I mention the gift bag, there was this adorable, adorable dog entertaining itself with a pink heart shaped balloon. I'm not a dog person but he was a cutie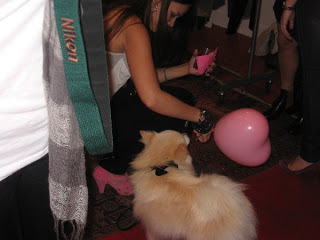 and lastly, the gift bag. A very cute tote bag (there were two versions, one bag had a gold animal sketch (sorry, I don't remember the animal) and gold writing and the other had pink and a pink giraffe. Kim and I had the gold while my cousin got the pink. I do love pink and so does Kim, so we switched and it seems we weren't the only ones to do so. Anyway, the bag had a clear sparkly lip plumper and a can of IZZE (in one of my favorite flavors – Apple). Here it is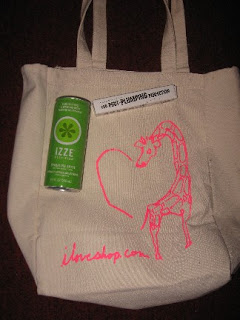 Next up will be the Barcardi Party at Body
As always, please post comments, praises (LOL), and random thoughts.