After the Siwy Jean Event, I wasn't sure I wanted to attend the Bacardi event because The Shop was located way downtown on Orchard Street and the Bacardi event was at Body Restaurant & Lounge in Harlem, 135th & 12th Ave to be exact (for some reason, their website is not available yet). Not only was it way uptown but if you had to take the train, as I being vehicularly-challenged had to, you had to 1 train to 137th Street & City College, then walk down some very, very dark stairs on 136th Street to get to 12th Ave. I swear you need Vin Deisel's eyes from Pitch Black to navigate those stairs, luckily my cell did a pretty good job of being a flashlight. I was meeting Zia* and Alexandra* at Body (my cousin went back home to get ready for a night out with a friend and her friends. They were supposed to meet me at the Bacardi event which didn't happen – too long a story).
Zia*, Alexandra* and I arrived at Body around the same time. There was a line but it moved very quickly, we were inside in less than 10 minutes but not before signing a release for possibly being filmed. Anyway, as you enter, you are greeted with a full crowd and lots of Bacardi branded decor (of course)
Body has two floors, the first was themed after Brazil and the Bacardi flavor for this floor was Bacardi Limon

This introduced guests to Latin music all night (although it was really spanish hip hop and reggaeton – I was expecting at least a little Brazilian music but not so much). And althought we were expecting allLAtin music, the DJ spun a lot of regular hip hop – I was enjoying myself so I wasn't complaining). The only Brazilian music we heard was when the Brazilian Carnival Dancers came out
They performed first as a group, then each danced individually and back as a group to pull guests on the dance floor to create a conga line (they performed twice while we were there).
At this point, more people started coming in, so many that I heard they stopped letting any more people in, which sucked because my friend, Michael, whose birthday it was today, was stuck on the line. I'm not shocked that it was so crowded though, I mean Bacardi open bar all night and hors d'oeurves (although I never got to see any upclose).
While the first floor was Brazil, the second was themed after Monte Carlo. The girls and I went upstairs for only mere seconds because it was way too crowded. There was gambling (I saw a Black Jack table) and the flavors for upstairs were Bacardi Razzberry and I think Bacardi Orange as well but as I said it was way too crowded and we never even made it to the middle of the room. The music was all hip hop though. Anyway, back downstairs we go and luckily we got some seats, so we put our bags down and danced a bit.
It was then that I saw a blast from the past in the form of a t-shirt, specifically a logo on a t-shirt.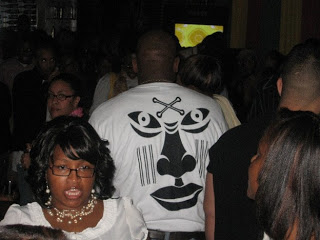 As you can see in the above photo, this guy was wearing a Moshood t-shirt. Moshppd is an African designer that owns a boutique on Fulton Street in Brooklyn. I worked for him for two years while in college. I was introduced to this line as a model in one of his fashion shows – the casting line was always long and usually wrapped around the block. The day I went to pick up my payment for participating in the show ($200 cash and a garment), he offered me a job because the person who was working that day was alone and I was helping her. I started that very same day. Interesting times.
*Some names have been changed to protect the permanently shy and those possibly under witness protection