My cousin left today for Spain (her real vacation, NY is just a stopover; she sent me this photo of the Mediterrean Sea – gorgeous view, right?)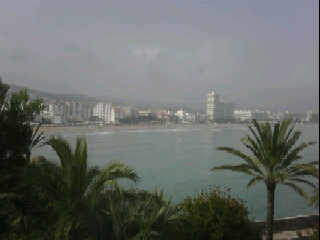 Anyway, I had two events plus a friend's birthday soiree to attend (the birthday party was for Michael, who was briefly mentioned at the Bacardi event). The first event of the day was the Hors D'oeuvre House by BizBash held at the very chic antique house, 632 on Hudson (that's the name as well as the address). This is a part of the NY Food & Wine Festival It's actually a three-floor, 19th Century Tuscan-style Townhouse filled with antiques but I stayed on the first floor with the very modern fans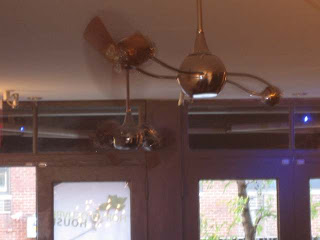 (though they were giving tours) to event planners.
As soon as you walk in, you are greeted with this banner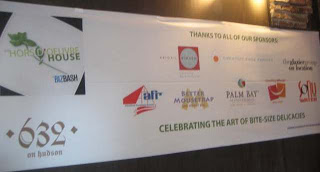 which hung over a table containing various BizBash Magazines and other information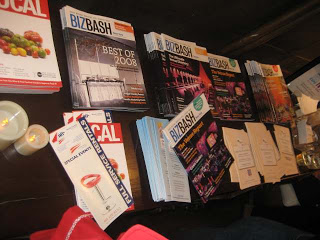 and the crowd
The BizBash event started at 1pm and went on until 5pm but I wanted to make sure I was home incase my cousin forgot anything – she did (twice). Anyway, I arrived to see Kim already there (on my way over, she said the event wasn't all that and she was leaving but since I was mere minutes away, she stayed (thanks girl). About 10-15 minutes later, Zia* and Alexandra* arrived. I wanted to meet up with them and then go to the event but they didn't get my message until they got to the event. The event was your basic event, wine was served (excellent wine, by the way). It is called Lunetta Prosecco and it's a must.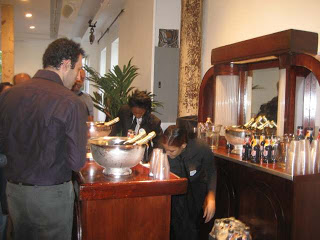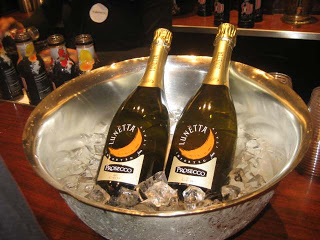 but the hors d'oeuvre situation was totally hilarious. It was like feeding time on the Serengeti. you'd swear these people were locked up and starved for weeks. When a server came out with a tray, it wasn't "kill or be killed", it was "get out of the way quick or be killed" via stampede. Alexandra* was hit, literally hit by another guest to get a damn bite-size morsel. Kim was tripped and shoved out of the way. I was also pushed. The same server who was well…serving when Alexandra* was hit came directly over to us (the savages were distracted by another server temporarily – they were standing by the door where the servers were coming out with the trays and we were off to the side away from the crowd). Before we had time to reach for an hors d'oeuvre (again, the server came directly to us – she was standing infront of us), we were completely surrounded by the other guests and that was when i was pushed out of the way. there is nothing worse than vultures. I mean I know the economy is bad but come on…..I swear actual staving people would not act that way when food is around, even the servers were disgusted – as they should be. I took some video of one of the more tamer moments of the guests surrounding the server (I guess some of them felt bad about their behavior). Sorry it's so shaky but I was laughing so much. You can actually see someone grab three hors d'oeuvres (which were satays).
The hors d'oeuvres were created by three different companies and the deliciousness they created for the event:
Abigail Kirsch – Miniature Lobster BLT's, Miso Glazed Black Cod Sates & Contemporary Caprese
Creative Edge Parties – Basil Chicken Roll, Salmon and Chips & Spinach Souffle
The Glazier Group – Spicy Crab Summer Roll, Seared Steak Fava Bean & Parmesan Reggiano Bruschetta
My favorite was the Salmon and Chips, of course I didn't get to taste anything that The Glazier Group did thanks to the others.
Anyway, we got tired of getting beat up, so we left. Zia* and Alexandra* were starving (are you surprised?), while Kim and I went on to the next event.
*Some names have been changed to protect the permanently shy and those possibly under witness protection