Before I start, I must say congrats to my good friend Indashio for winning VH1's Glam God with Vivica A Fox. You go baby and don't let the negative people spoil your love of your job.
Back to the event. As October is Breast Cancer Month, you know there are Breast Cancer Events going on. I attended one hosted by the Cosmedical Spa, Smooth Synergy. It was originally supposed to be cruise around New York but because they got more RSVPs than expected, they moved the entire event to Mansion. An email was sent out the night before the event but some people got it the same day as the event (which is unfortunate – I will explain a bit later). Anyway, the event was being hosted by Christian Michael de Medici and sponsored by The Daily (Fashion Week Daily to the layman)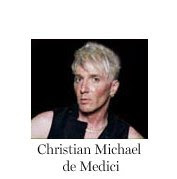 (yes, from THAT de Medici family), who has his own reality show called POPLIFE: The Adventures of a de Medici. At the event, they stated the show airs on MTV, I assumed MTV Europe. Anyway, as soon as you walk in, there are pap-type photogs waiting and you're asked to post against this step and repeat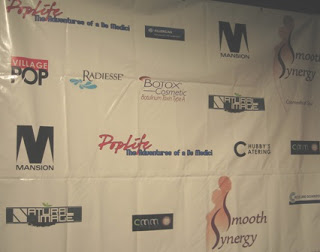 I of course followed direction, Angelique* on the other hand is not fond of taking pictures, so she passed. Afterwards, you check in with these two lovely ladies,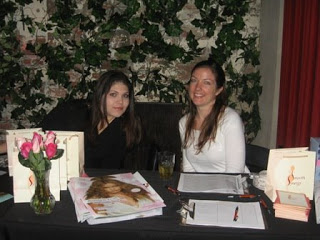 given a gift bag ticket as well as a drink ticket (this part surprised us as the invitation stated open bar but as said before, the change of venue notice said they expecting much more people than before, so I guess the open bar was now limited to one drink. I'm not that big a drinker (I usually stay at 2 drinks at an event) and Angelique* doesn't drink alcohol (yes, really) except for one curious moment with a glass of Sangria (which she didn't like) LOL. So of course, neither of us minded, it's for a great cause and we were ready to battle to crowd for a good spot, we were however intrigued to see what we'd get in the gift bags considering Angelique* has previously searched for Gifts for cancer patients for some motivational and heartwarming presents for our mutual friends that are unfortunately battling with different cancers at the moment. Anyway, we walk into the main hall of Mansion to the screens showcasing this (they will later show snippets from POPLIFE: The Adventures of a de Medici)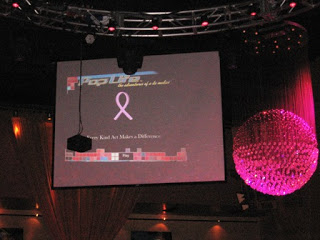 Unfortunately, the guests seem very scarce but it's still early yet. We join Kim and her friend Allison, Marisol and her brother (all we've met before), so we sit and chit chat about the past events we attended, the future events we will attend, the lack of people at this event, the hors d'oeuvres, world news, etc, etc. Then Angelique* and I got our one drink (mine was pretty powerful, so I'm glad it's only one). Several minutes later, Christian de Medici introduces himself and he begins the auction (did I forget that there is an auction……well, there is an auction, there I mentioned it. It is a charitable event after all).
Not everything up for auction was available to take photos, except the artwork (no the horn in the back is not a part of it)
which this gentleman and his wife purchase one (they are the owners of Smooth Synergy)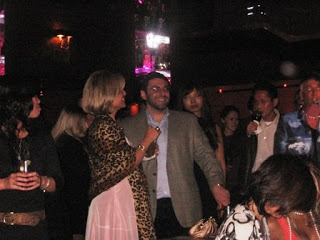 The other painting was purchased by this man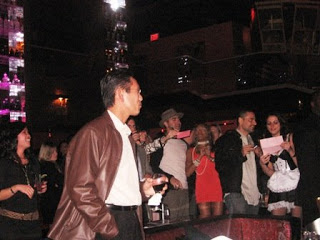 who also walked away with a fashion Week in Paris trip worth $45,000 for ONLY $3,000. YES, REALLY! The package included a roundtrip for two on a private jet, front row tickets to Paris fashion Week with Christian de Medici, of course hotel. $3,000, I'll say it again $3,000. I almost past out. Oh god, I wish, I wish that was me. The whole event was like a sale (I think he bought something else too but I can't remember).
Imagine a free hotel stay for ANY W Hotel in the world – how much would you expect that to cost and where would you go? It was valued at $10,000. The winning bid did not spend that much – at all.
There was also a botox and restylane packages worth thousand that went for like $300, a trip for two to Miami and Los Angeles that went for nothing. Kim, Angelique*, Marisol and I all turned a very deep shade of envy green that night. The reason for the rock bottom prices? As I stated before, guests were very scarce at this event. I think not everyone got the new location email that was sent out. So everything had to go to at least get some money for the organization. I'm just happy at least some money was made. I wish I had a lot of my own to bid (on the Paris trip) but not everyone is as lucky as others in this struggling economy..sigh……
Anyway, at about midnight or 1 am (who can remember), the club officially changed from charity event host location to full on club. The transition was made by them (guess I'd have to be a straight man to get the concept but whatever)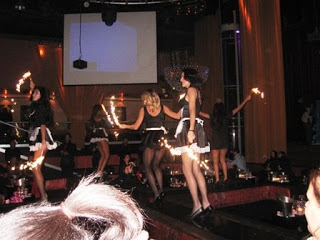 The last part of the evening is of course gift bag time, and here it is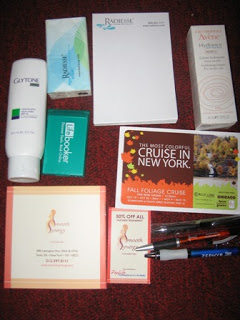 *Some names have been changed to protect the permanently shy and those possibly under witness protection
COMMENTS CLOSED
UPDATE: It seems the elusive "Christian Michael de Medici" has been caught, click here for news update: http://www.wfaa.com/news/Suspect-nabbed-in–82325612.html