This event was actually two in one. First Oliver Peoples was having a trunk show and it was also the celebration of the launch of the new Optyx by Gruen flagship store on Madison store.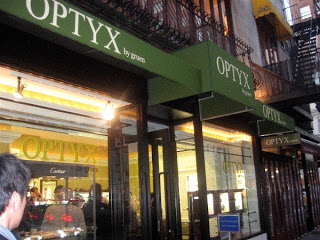 Optyx by Gruen is owned by President & CEO, Jon Gruen.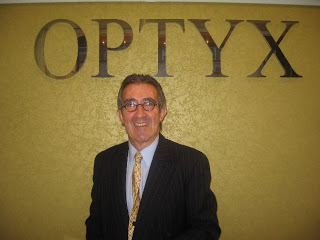 Optyx by Gruen carries over 25 brands, such as Betsey Johnson, Prada, Dolce & Gabbana, Bulgari, Emilio Pucci, Fendi, Vera Wang, Oliver Peoples, etc. Besides this Manhattan location, Optyx by Gruen can be found in East Hampton, Southhampton and Greenwich, CT. I had a chance to ask Mr. Gruen a question at the event (I really only had one). Here is my question and his answer –
Do you find with the increase in corrective surgery, there is a change or it has affected your customer or who your customer is?
He said,
No, not really. The only thing that has changed are strong prescriptions. The fashion aspect has not changed infact they are selling more high-end eyewear brands
This was evident with this client trying on some sunglasses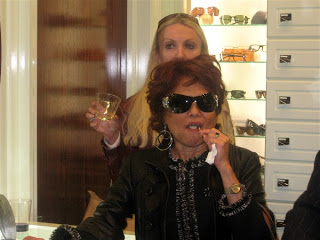 And of course I had to check out some of the Oliver Peoples Eyewear on display since this was also a trunk show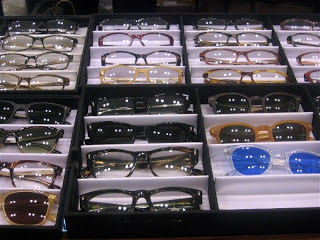 And although it was a small boutique, they had a good amount of people (it was perfect for the size of the store because you did get a chance to actually see and try on the eyewear and get personal attenion from the staff)
I did stay for a little bit after and had some wine but I had to rush over to another event.