After the Japan C event, I hopped on the bus (yes the bus – this economy sucks remember) and headed downtown to the next event, as stated in the last post, inspired by East Asia. I'm meeting Dave and Kim there.
I am talking about the Grand Opening of restaurant, Pranna, which is located at 79 Madison Ave on the corner of 28th Street.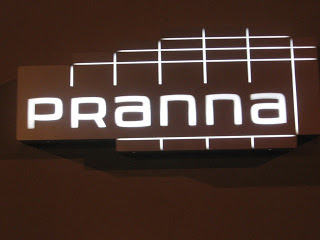 Pranna is owned by Rajiv Sharma, who's family has been in the restaurant industry for years and his wife, Payal Sharma who's background in marketing ans communications helped their restaurant career. Pranna is not their first restaurant together, Sitar Restaurant, located in Long Island, was the couple's first venture together. (Unfortunately, the restaurant was so crowded I couldn't find the owners to take a photo).
The kitchen is run by Executive Chef Chai Trivedi (attached is a photo of him with his sister, Payal Sharma at Sitar Restaurant)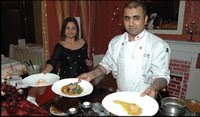 But back to Pranna, as soon as you walk in there is this gorgeous piece of wooden artwork on the wall. I don't know why but I had to take a photo ( but this will prove significant later in the post)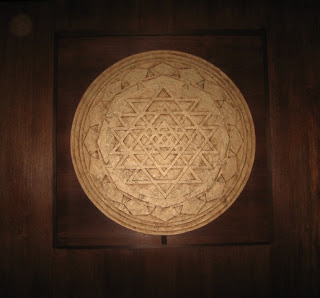 It was also very, very, very crowded in there. I was the first to arrive, Dave arrived 30 minutes later and mere minutes after him, Kim. We sat at a table in the back where there was a bit more breathing room.
It was hard to get photos of all the great details of Pranna at the event, luckily, I get did get some from the email invitation, see the true beauty of Pranna below – the Main bar, the Satay Lounge & Bar and VIP Skybox (that's where we were) and the Wine Cellar Banquettes (as you can see it is enormous and quite gorgeous)
Anyway, as I stated before, it was really crowded in there, too crowded to actually get the servers to reach where we were with actual hors d'oeuvres on their trays but luckily Kim, Dave and I did get to sample the food because of the very wonderful Manager, Kile Brown. He personally brought us a tray of the following delicious hors d'oeuvres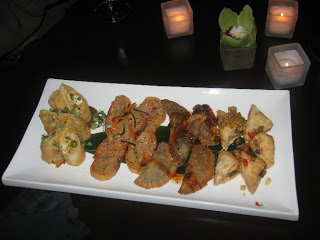 from left to right, we sampled Penang Chicken Spring Roll with Tamarind Mustard, Pork Shrimp Crostini with Daikon and Carrot Marmalade, Spinach Potato Curry Puff with Mint Chili Sauce and Crispy Five Mushroom Stuffed Tofu with Sweet Tomatillo Chutney. Absolutely Scrumptious!
Although we didn't get to eat as much as we wanted, we did get to drink endlessly with servers walking around with refills of red and white wines. And speaking of servers, I took a photo of the back of one of their shirts (remember the wood artwork from earlier?), the same design is embroidered on the back of their shirts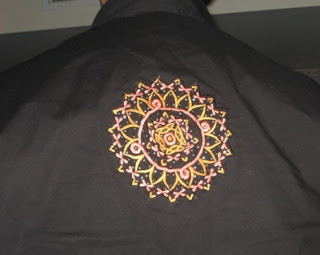 Anyway, about 1/2 hour later when the place started clearing out (Kim, Dave and I were having the best conversation and we never really noticed when it started getting less crowded) and servers started reaching us and we enjoyed a bit more hors d'oeuvres including dessert. We got to sample two desserts, one I believe was warm Coconut Macaroons and the other a Spiced Butter Cake with a Salty Peanut Butter Sauce, courtesy of Manager, Kile Brown. Both were incredible. I didn't get a chance to take a photo of the Macaroons as they were being passed around but here is a photo of the Spiced Butter Cake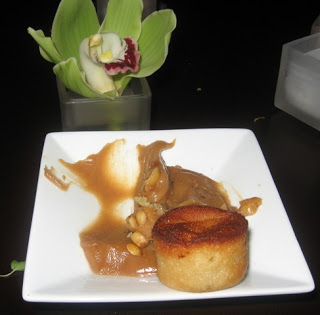 As of now, the dining room at Pranna is open Monday – Friday 5:30 pm – Midnight (The Satay Lounge & Bar opens at 4pm), and Saturday from 5 pm – Midnight (Satay lounge & Bar 4pm – 2:3- am) only but starting November 17th, Pranna will begin serving lunch Monday-Friday from 11:30 am – 3:30pm.
Pranna is a wonderful and much needed addition to the neighborhood and Dave and I are headed back there soon (after I'm back from Tokyo) to have dinner in celebration of my birthday. I can't wait.