Product-n-Press LIVE™returned for its 3rd season to showcase more than thirty top brands from global powerhouses to unique and independent boutique finds including Accessories, Beauty, Home, Food & Beverage, Gadgets, Babies, Pets, etc,
Participating brands included Alberto Luzzi Designs, Alpha Dog Shopper.com, American Humane Film & TV Unit – No Animals Were Harmed, Black & White Cookie Company, Bissell, Bustelo, Buzzy, Broadway Cares, Daffy's, Divine Chocolate, DK Publishing, Ford, Gotham Wines, HoMedics, Juvederm, Kolache Mama, Maidenform, Maison Le Grand, Moroccan Oil, MPHC Fitness, Muze, National Basketball Association (NBA), Nivea, Pacimals, Passion Growers, Pergamino, Prudence Designs, Puppy Hugger, Rosetta Stone, Scentsy, Trixie + Peanut, Vioguard, Violight and VoiceQuilt.
The good news, I did get to attend and speak with a few brands, the bad news is I couldn't stay long and only got to speak with three or so brands but at least they were my first choices. Why didn't I get to speak with you more, you may ask? Time
is the answer and the issue. The event was held at the very massive and off the beaten track La.Venue; I do love La.Venue and I have attended quite a few events there but it's not easy to get too and you need travel time. On any other day, this would have meant nothing to me but this event just happened to be on a day where my checklist was quite a long one.
Anyway, I got a chance to enjoy learning more about Moroccanoil (a salon-only product I've been dying to try)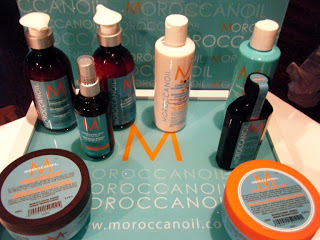 the comfy bras and tanks from Maidenform

and Nivea (this brought back memories of me growing up sneaking some of my Mom's Nivea Milk and Nivea Creme)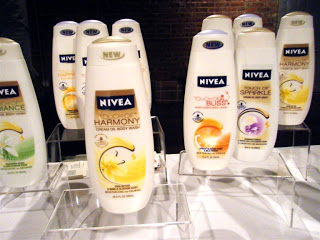 As attending press, we were lucky to get a full-size bottle of the Moroccanoil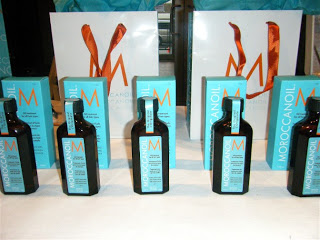 which I happily used that same day when I got home. I've heard wonderful things about this hair treatment and as someone who doesn't use any styling products in her hair, I can tell you I'm very picky and am very happy with it. I use leave in conditioners as my hair moisturizer as anything else would weigh my hair down and there's nothing worse than limp hair. I love the shine it adds while keeping my hair light and non-greasy. I look forward to trying the shampoo and conditioner. Click HERE to find a salon near you that uses Moroccanoil products. I did miss out on getting Senior Stylist and Hair Care Expert Mary Zingone, from the exclusive AnthonyLeonard Salon who was offering Moroccanoil hair touch-ups and winter hair care tips but I did speak to her briefly about my hair. If you're feeling lucky, enter their US Sweepstakes for a chance to win $375 worth of products
At Maidenform, I was introduced to Maidenform's BOD SQUAD for a one-on-one fitting and discussions on "Why the Bra is Essential to Holiday Dressing". As a proud member of the D Club, this was not a hard sell. I was introduced to two new wonderful products from Maidenform. First was the Custom Lift Satin Demi Bra, which is one of the best t-shirt bras I have ever had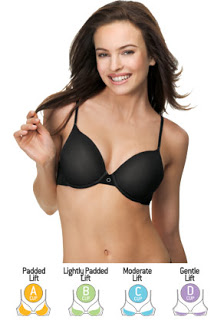 Each cup size comes with custom lifting beneficial to your cup size, the result is a natural shape with soft satin fabric that gives you a smooth finish and eliminates any unsightly bulges.
Second was the Flexees Fat-Free Dressing Tank Top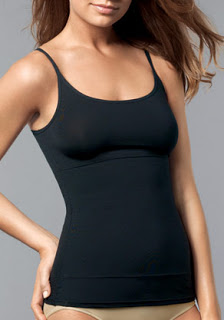 While I needed a bra for the top part (again, proud member of the D Club), the microfiber liner smoothed out my midsection a little; I was given a large at the event so it didn't hold me in as I thought it should (a medium would have been perfect) but I was still happy with it, especially that it was longer in length than most and I could use it to layer seamlessly. Why not visit Maidenform and find your perfect bra HERE
Last but not least was Nivea, as I mentioned before, my mom used Nivea Milk and Nivea Creme throughtout my childhood and I remember indulging in those products almost daily, so I grew up loving Nivea and I was very happy to see they had a presence at Product-n-Press. I was even happier when I was gifted with a full bottle of the Touch of Sparkle Cream Oil Body Wash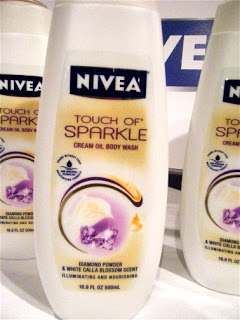 "Enriched with sparkling diamond powder and conditioners, this exquisite pearlescent cream oil creates a supreme lather that glides over skin and rinses smoothly, without leaving any shimmer particles on your skin". As it gets colder, I always find that my skin gets dull and lifeless (sometime even after heavy moisturizing after I shower and throughout the day) but after I started using the Touch of Sparkle Cream Oil Body Wash, my after shower moisturising has been cut down to just once. My skin doesn't feel dry and tight like with other washes and I find myself touching my skin more and it always looks healthy, moisturized and supple. If Touch of Sparkle is not your forte, you can try any of the following Cream Oil Body Washes- Touch of Radiance, Touch of Harmony, Touch of Beauty or any of the Moisturizing Body Washes – Touch of Bliss, Touch of Smoothness and Touch of Happiness.