The Lilly Pulitzer event was perfect for this day because inside the event was in direct contrast to the weather outside. It was a cold and rainy day, one of those that will make you change your mind about attending an event. Inside the event on the other hand was bright, lively and very colorful, just like Palm Beach.
Dave, Kim and I attended an event in Alphabet City and stayed for a while away from the cold and the rain but both went home after that event and I headed over to Lilly Pulitzer and I was very happy that I did. With only 10 minutes left in the event, I had to be quick. I asked the list person where should I start and he pointed me in the direction of a room filled with mannequins dressed in Lilly Pulitzer (of course)
Here is a view of the mannequins from the outside
But you know I had to showcase my favorite from this display and here they are
As I said before, I only had about 10 minutes, so after spending about 2 minutes in there I ran out to view the next collection of clothing artwork but before I did, I ran into a group of guys who obviously loved having their picture taken and I happily obliged because they looked so cheery. As you can see the majority of the guests were dressed in Lilly Pulitzer
To the left of them were framed Lilly Pulitzer fabric squares with framed quotes from such fashion heavies as Vera Wang, Issac Mizrahi, etc.
Further into the gallery was a very large crowd, it was packed; we were really rubbing elbows
But still I got to see the amazing displays of Lilly Pulitzer throughout her 50 years of fashion. Pay close attention tot he photos, you will be a former first lady
So I'm walking around eating hors d'oeuvres and drinking champagne, I came across a room where all the furniture was decorated in Lilly Pulitzer and of course, more guests were decorated in Lilly Pulitzer as well but the best was the piano decorated in one of the prints as well
All of this was done in 10 minutes and it was time to get the gift bag and finally head home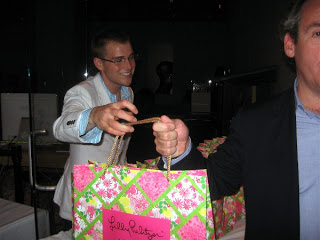 But that wasn't all, when I exited the gallery, I notice the Lilly Pulitzer Jeep. I loved that. This entire event definitely added more than a bit of color to my rainy day
and of course a nice gift bag never hurt either