After a long day at work, Kim invited me to the a Shiseido product launch at the new Splashlight Studios on Varick. The launch turned out to be for Shiseido's Perfect Rouge Lip Collection, which officially launches in february 2009. Before you even enter the actual location, you checked in with the PR girls in the lobby and then up to the event location. As soon as you walk in, you are greeted with these
I find out later that after you're given a lipstick makeover, your photo will be taken and added to the second board (more on that later). Anyway, I spot Kim mere seconds after I walk in (I'd forgotten my blackberry back at the office< so i couldn't call her and she'd just come back from coat check to grab hers) - perfect timing. We proceeded to the bar for a drink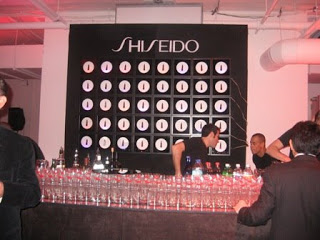 Closer inspection of the artwork behind the bar reveals a tube of lipstick in each circle (very nice)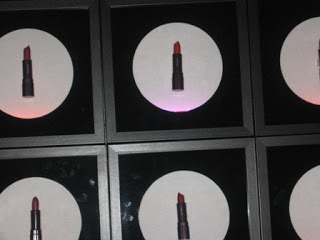 and on even further inspection, you'll see the two hot bartenders….yummy (very, very nice)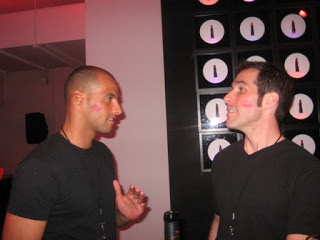 we got our drinks……..called Day Lily
Now you may have noticed that there are half lip prints on the glasses, don't worry they're meant to be there – after all, this is a lipstick launch event. Did you also notice the bartenders had kiss prints on their faces too? Well so did the servers
So Kim and I got our drinks and started walking around and made our way over to the Shiseido Perfect Rouge Lip Collection
Kim found a shade she loved but i didn't find the colors I was looking for but after blending two colors (they let everyone try the colors with testers), I got something close to a really nice shade on me. They have some fun colors like Day Lily (yes, like tonight's cocktail), Bubblegum, Sweat Pea, Cerise, Serenity, Valentine, Mystery and Siren you're sure to find your perfect shade, even if you mix.
After playing dressup with the lipstick, we continued around the room occasionally sopping to sample the delicious hors d'oeuvres (we were both staving and we needed something to combat the alcohol we were drinking – bo that was a good drink). Anyway, we came upon this lovely table of
courtesy of Fatty Crab and they were ohhh my godddddd..sooooo goooodddd (is that too obscene?). I was a total oinker and ate about 4 of them (I think). I almost did the tacky wedding reception bit and wrapped some up to take home……..I said ALMOST. I'm not that bad. Just so you understand, here's a closeup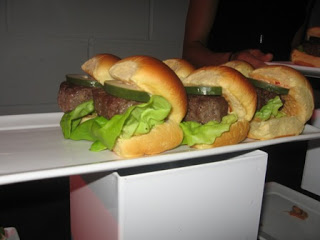 Anyway, Shiseido gifted guests with a makeover and a potrait shoot
Kim didn't partake in the makeover (too long a line and besides we were already trying on the testers) but she did do the portrait shoot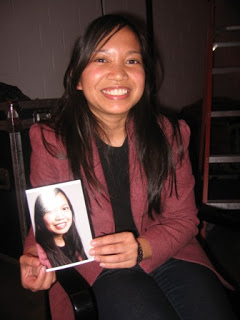 I told her she looks 12 years old in the photo (2 years younger than she looks now). After some more drinks and hors d'oeuvres (those servers were on you like white on rice if they saw an empty hand or plate), we did some people and took in the crowd
The coolest part of the whole event ad I don't know why it took us so long to notice was that the infamous Lady Bunny was the DJ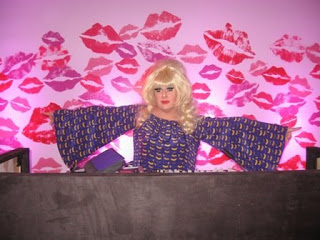 I don't care who you are or what you like or don't like but you MUST catch at least one of Lady Bunny's shows. She is so freaking hilarious. I mean hilarious.
Anyway, we did one more walk around the venue and then headed out. On our way, we grabbed our giftbag