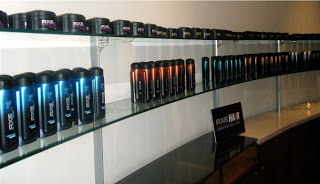 Do you have a boyfriend, relative or friend who spends as much time on his hair as you would like to enjoy a root canal? I have one like that, his hair is in a ponytail more often than mine, hell more often than most store mannequins. Or better yet, does the man in your life remind you of the Gotti Boys? if you answered yes to either of these (first, I feel your pain) Axe, the makers of sensual Body Sprays for men has the answer with the introduction of the Axe Hair Care line. This line is for complete girl-approved hair. OK GENTLEMEN, TAKE NOTE, WE LIKE RUNNING OUR FINGERS THROUGH YOU HAIR, sooooo…..can you please stop with the stiff hair – thank you!
Hair Groomer Extraordinarie, Diana Schmidke, who has had her hands in the most sensational celebrity hair, such as George Clooney, Rhys Myers, my "in my dreams" husband – James Franco, etc and whose work has been featured in such magazines as Esquire, Details, Vanity Fair, Interview, etc. was on hand to work her magic on the hair of guests and the models to show how fabulous Axe hair products are.
It just so happened that I knew one of the models, the tall blond, his name is Corey from many moons ago. Anyway, I filmed some video of Diana working her magic on one of the models. Unfortunately it was so noisy at Prive you could barely hear her but I did do audio, so I'm hoping it is better. The first audio file is an interview with Jake Basden from Edelman and the second is audio from the above video interview with Diana Schmidke.
The event was held at Prive Salon, a chic salon located at 310 West Broadway. As you can imagine, the guests were mostly male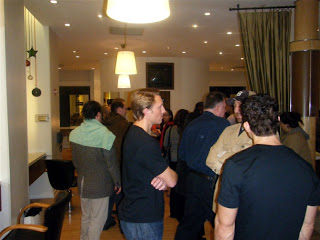 Axe Hair also has this great site called Axe Hair Crisis Relief, which is women from all over trying to resolve the hair crisis thats eem to plague the men in their lives. Check it out.
Shampoos
AXE Just Clean Shampoo provides a fresh scent and invigorating feel for a clean she'll notice
AXE De-Glue Shampoo + Scrub features rock crystals and removes the gunky product build-up blocking guys' game
AXE De-Poof Shampoo features a hydrating Kukui blend and deflates poofy hair to inflate guys' appeal
AXE Anti-Dandruff Shampoo + Conditioner offers zinc-based dandruff control because girls don't dig flakes
AXE 2 in 1 Shampoo + Conditioner combines cleansing and conditioning to speed up guys' clean and their game
Conditioner
AXE Just Soft Conditioner leaves hair so soft she won't be able to keep her hands out of it
AXE Styling Products
AXE Messy Look Paste gives hair a messy, just-out-of-bed look she'll want to run her hands through
AXE Spiked-Up Look Putty gives hair hold without all the hard crunch of gel that girls hate
AXE Clean-Cut Look Pomade gives guys a girl-approved polished look without appearing wet
AXE Shaggy Look Cream gives longer manes an easygoing look for hair she can't resist
AXE Hair shampoos and conditioner are available at mass retail stores. The suggested retail costs are $4.99 for a 12-oz. bottle of any of the shampoos and conditioners. The hair styling products are available for $5.99 for a 2.64-oz. jar
A big thank you to Jake at Edelman for info and product.