On Tuesday, December 3rd, we had a lot of events to go to but one of my favorites was the Boston Market VIP Tasting.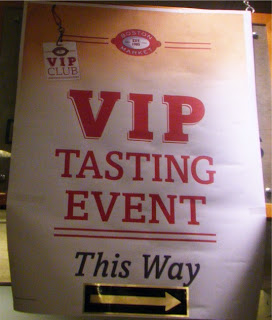 What is this event you might ask? It is the tasting of new items Boston Market is adding to their menu. And boy was it TASTY…tres delicioso. I am proud to say I am a Boston Market regular, and I know plenty of people who say the same. How can you not love it, it's an inexpensive home cooked meal when you're hungry and not close to home (such as hopping from event to event where they only served alcohol) or if you just don't feel like cooking). Anyway, we attended this event at the Boston Market on 23rd & 8th (our usual spot)….did you know there was one on 58th & 10th Ave? I thought the 23rd Street location was the only one in the city.
Anyway, though Boston Market is headquartered in Colorado, they definitely brought the down home cooking to New York. Anyway, the whole gang was planning to attend – Dave, Kim, Zia*, Angelique*, Marisol and I. We all arrived at different intervals. I arrived first, which was very good because it gave me a chance to meet Angela, the Sr. Director of Communications and Field Marketing for Boston Market who was very sweet and a fan of my blog. She made sure I had all the details about this event.
Dave arrived next, then Zia* and Angelique*, then Kim and last (but certainly not least), Marisol. We got to sample all the delicious food and since it ws set up like a buffet, we could go back for more if we wanted. I loved all the new additions to the menu but my ultimate favorite was the fish, which was coated and cooked in a Lemon Butter Sauce (god I'm drooling just thinking about it). First of all, how exciting is it that Boston market has finally added fish to the menu? That dish will surely be my new Boston Market staple.
Other new menu items include the following (please note these items are only available in the New York locations for now and on certain days of the week and all are $5.99):
Monday: Baja Chicken – w/ black beans, Cilantro Lime Rice & Cornbread
Tuesday: Hand Carved Ham – w/ Apple Cranberry Chutney, Squash Casserole & Cornbread
Wednesday: Tuscan Chicken – w/ fresh Steamed Vegetables & Cornbread
Thursday: Crispy Country Chicken – w/ Homestyle Mashed Potatoes, Country Gravy & Cornbread
Friday: Baked whitefish – w/ Dijon mustard Crumb, Lemon Butter Sauce, Rice Pilaf & Cornbread
Saturday: Cjicken Parmesan – w/ a Side Caesar Salad
Sunday: Hand-Carved Ham – w/ Apple Cranberry Chutney, Rice Pilaf & Cornbread (notice the slight difference between Sunday's sides and Tuesday's sides
They also totally revamped the dining area of all Boston markets in New York. I for one never knew the 23rd Street location had a downstairs eating area (Dave knew but for some reason never mentioned a thing the few thousand times we're gone). He said he ate there once but didn't like the feel, a sentiment the people at Boston market have heard before which is why they revamped it. The downstairs eating area was painted a butter yellow and was large and airy. Unfortunately I only took one shot of the crowd (thankfully there wasn't too much of a crowd – no Velisciraptors here), so you can't see the real beauty of the new dining area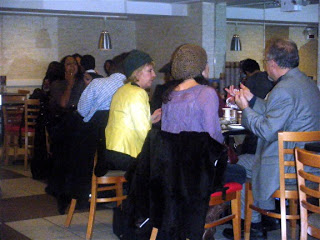 but I did get video of Dave doing a video for the reps from Boston Market to show to their CEO, unfortunately it's against a very noisy background of people
We left full and very content. Now that we'd eaten,w e were ready for the wine, champagne and other drinks the other events we were on our way to would provide.