On what was perhaps the coldest day ever (I swear I heard the devil complaining), Airwalk was celebrating the limited quantity production of the Desert Boot. The event was being held at the Hotel on Rivington
At the request of Beastie Boys member, Adam Yauch, who is such a huge fan of the boot that when he ran out of his supply, he contacted Airwalk and had them reproduce it. I'm not sure how many pairs he got but I got two in black, one for my brother and the other for Dave, who is still working as head stylist for one of the Food Network Show.
Anyway, as I stated before, it was cold as a snowman's balls outside and we had to wait online for a bit; but I've learned from past experiences that if there is a limited amount of stuff being given out – GET HERE EARLY!! So I did and of course I wasn't the only one who felt that way because when I got there, I was fifth in line but luckily one of the people was my friend Patty who is ultra fab. Patty selects and handles all the interns who work Fashion Week
We kept ourselves busy (and warm) by talking and huddling up against each other, after about 45 minutes it was finally time to go in. The warmth enveloped me like a lover's arms, it surrounded and held me tight and boy did that feel good. Anyway, first thing's first – peel off the many layers and check my coat (done), now on to the shoes. The giveaway was of course a first come, first serve basis. There were 150pairs to give out and this was the only place to get them; they are not going to be in any retail stores, so if you got a pair, you were very lucky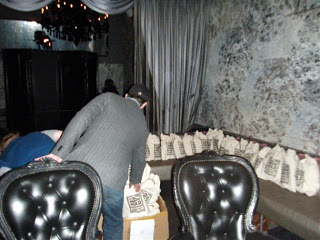 The atmosphere of the event was very relaxed. Everyone was either sitting around talking, drinking or trying on the shoes
But the shoes were not the only thing on display…well…sort of. Some very talented artists created some amazing artwork out of the shoe boxes
While I was taking photos of the artwork, I couldn't help take a photo of the line outside of the other people waiting to get in. Of course by this time, the shoes were already gone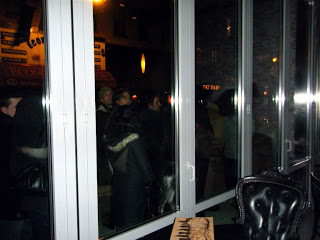 Anyway, I've shown you the shoes at the beginning of this post but I must mention that they came in the most rugged canvas bag…very manly.