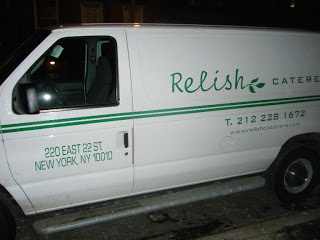 This open house hosted by Relish Caterers and Notes on a Party was to celebrate a new event space, a private townhouse on West 4th St by Washington Square Park described as "a modern townhouse located in the West Village, this venue is ideal for intimate cocktail parties, seated dinners, bridal showers, photo shoots, meetings and more."
As I was the first to arrive (Kim was my plus 1), I waited outside for her and since it wasn't that cold that day (thank god) I had no unpleasantries. I was passing the time in conversation with another guest who was also waiting for her plus 1.
We arrived to find a very beautifully decorated home
As you can see, the bathroom alone is a religious experience. I didn't want to leave. Anyway, the food was wondeful
I didn't get a chance to get a better shot of the hors d'oeuvres because there were a few velosciraptors there but Kim and I still managed to enjoy quite a bit. We didn't stay too long – I have a rule about never closing an event besides, we had another to attend.