At BCBGMAXAZRIA, the future rained supreme with some looks done in the most vivid cream fabrics I have ever seen; with architecturally modern touches like structured collars and square necklines with very minimal but quite noticeable detailing, the collection captured your attention.
But of course not everything was the crisp cream hue that you see above. Other colors included black and the lovely Pale Mauve, Dusty Rose and muted Wine (colors I noticed a lot during the shows)
One thing I immediately fell in love with at BCBGMAZAZRIA were the Gunmetal and gold tights. There were many seen on the runways this season but I love the tone of the BCBGMAZAZRIA ones. Unfortunately I couldn't get a detailed photo of them but they can be seen in the show's finale which I videotaped and will end this post with.
As stated before , there was a very futuristic vision to the collection but I did see some vintage influences, medieval to be exact – think Maid Marion from Robin Hood. I'm talking about the long velvet dresses that appeared towards the end of the show. Again, sorry to say I didn't get any photos (someone seated in front of me kept on standing up and blocking the view from my seat)but luckily, I did get them in the video.
On another note, I try to get a list of who attends the shows that are in my view and seated directly across the runway from me was Celebrity Stylist and Fashion Host, Phillip Bloch. I'm sure there were other celebs but as always, I pay more attention to the clothing than the guests. I only noticed him because he as in my direct line of sight.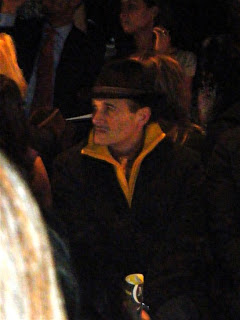 Anyway, as promised, I leave you with the show finale.