As we all know, many designers opted to show off site this season due to the failing economy and many were doing presentations instead. If these huge designers are doing this, what about the up and coming and unknown designers. What salvage do they have?
In comes Expose, a fashion showcase that "marries the hottest ready-to-wear brands with the world's most influential fashion editors, writers, stylists and select buyers. Designers get the opportunity to give an intimate face-to-face look at their latest collections to the people deciding what goes in the magazines, on TV and film and on celebrities".
Picture multiple designers having presentations in one location. And where is that location? Well none other than the Bryant Park Hotel, located across the street and mere seconds from Bryant Park. I got a chance to speak to Matt Meyerson, the PR Head of Expose and he filled me in on the entire concept, cick HERE to listen.
I got a chance to speak to and interview five of the lines featured at the Expose event – gr.dano, Serpico, Marc Marmel, ic! berlin and Krelwear. The first designers I spoke to were Jill Giordano and Brian Scheyer of gr.dano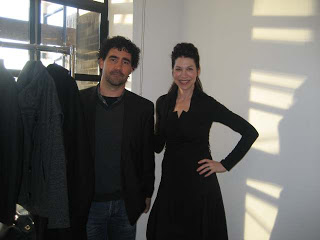 gr.dano is a very tailored collection which was described to me as Sexy Secretary but which also featured amazing detail and fun personal touches that make it easy to transition from work to play. I can totally see a few of their pieces on Samantha or Charlotte in the sequel to Sex and the City.
Click HERE for my interview with Brian Scheyer of gr.dano.
My next stop was to Serpico, the brainchild of designer Melissa Serpico Kamhout and a very elegant, romantic with an architectural feel collection. As did many designers this season, Melissa also believed fall didn't have to be black, why not beautiful blush. I fell in love with her collection at first sight.
The soft, feminine and very sophisticated pieces were each quite special. And they just announced that they are now with Edite Showroom in New York.
Click HERE for my interview with Melissa Serpico Kamhout (she's in the photo below).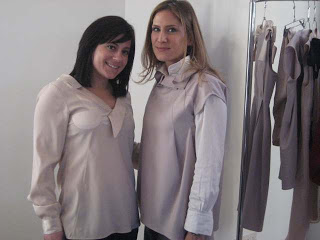 Next stop on my trip around the Expose event was Marc Marmel Luggage Collection,
where I was shown a gorgeous line of bags (travel luggage, clutches and wallets) with an aged finish to give it that worn vintage feel.
I love all thing vintage; to me a vintage piece has a story, of it's creator, owner and it's being. Vintage pieces are loved and filled with love (otherwise they wouldn't last as long as they did) and I got that same aura from the Marc Marmel Collection. Click HERE for my interview about the line and collection.
On again I go, my next stop ic! berlin and Caleb Jaquith. ic! berlin is a nitch maker of eyewear and as someone who has destroyed a few pairs of sunglasses, this company is totally needed. What makes ic! berlin so special? Look below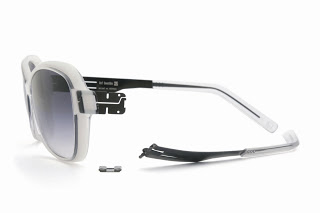 This is the Audrey and NO, IT ISN'T BROKEN. That's the beauty of the company, the frames are not only bendable, but you can unsnap them and snap them back into place. There are no hardwear in these frames, that's right, no screws! So if you accidentally sit on your prescription glasses or sunglasses, don't fear with ic! berlin, just snap them back into place and keep it moving. Check out some of the styles below
I've never had the best of luck finding sunglasses that fit my face, so when I find one, I try to grab it. I wish I got a chance to try out some of the ic! berlin sunglasses at the Expose event but I was trying to make sure I got to speak to everyone but checking out the website, I would like to try the Ella (the last photo above) or the Natascha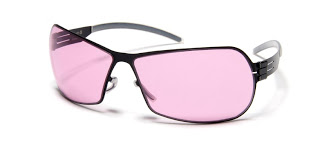 Anyway, click HERE for the interview with the very charming Caleb Jaquith.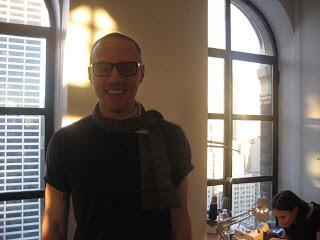 My last but certainly not least stop was Krelwear, headed and designed by Karelle Levy.
According to her bio, "Krelwear's philosophy is based in the beauty of "toobular" knit design. Branching through two separate lines, one of a kind and made to order. The products range from sweaters, dresses, skirts and tanks, to accessories such as hats, scarves, leg warmers and cuffs"
At the Expose event, Krelwear was treating everyone to a complimentary piece. Along with her collection for showcase, Karelle brought a trunk full of fabric (did I mention, she makes her own knit fabrics?) depending on what fabric you choose
Click HERE to listen to my interiew with Karelle Levy. They too are represented by the Edite Showroom in New York.
Until the next………