The Academy of Art University is a combination of FIT, Parsons and Gen Art for up and coming designers, only they are based in San Francisco. The exception to the others I listed is that Academy of Art has been around since 1929 and is the largest accredited private art and design school in the US and it gives it's students the chance to showcase their designs at the most important fashion event – NY Fashion Week.
This season featured six segments, one menswear and five womenwear – The Britex Fabrics Project which was a collaboration of 15 students and Britex Fabrics, Qianya Martin, Heather Howard & Cat Janky, Scott McFarland, I-Shan Liou & Myoung Hee Kim and Emily Melville & Ivanka Georgieva.
First up, The Britex Fabrics Project which showed seven looks and featured designs made from wool gauze over gingham twill, mohair, boucle, wool crepe, houndstooth, etc donated to the students. Standouts are featured below
The next segment was Fashion and Knitwear designs by Qianya Martin who featured five looks. This was one of my favorites because of the details that seem hidden but weren't. Many of her looks featured sheer fabrics but with some you couldn't really tell, that was the beauty of it. Of course the feminine chic line was very, very wearbale. I'll enjoy seeing more of her work in the future.
From Qianya Martin to the eco-friendly collection of Heather Howard and the classic modern textile designs of Cat Janky. Cat's textiles really made Heather's designers come to life – excellent collaboration.
As the only menswear designer from Academy of Art this season, Scott McFarlane, a trained former sculptor turned designer continued the trend of men wearing pale colors, particulary Baby Pink showed eight looks.
I'm not sure about wearing long johns as pants but I did love the sweaters, Cliff Huxtable would be very happy and a huge fan of Scott's. Watch out Coogi!

Another very interestig fact about Scott McFarlane, he created his own yarn by cutting lace fabric into strips and hand-knitting them into heavier knits for his coats. Amazing, what innovation!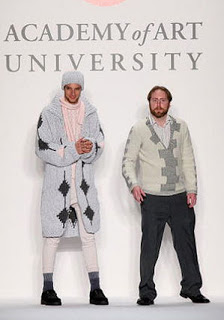 The next design segment was the beautiful designs of I-Shan Liou and the bold textiles of Myoung Hee Kim. Gorgeous, gorgeous, gorgeous! This six piece collection was my second favorite with it's semi chunky sweater dresses. While I-Shan Liou was inpired by the elements, Myoung Hee Kim handpainted rice paper and chiffon and bonded them to I-Shan's knits to create these beautiful pieces that you see
Lastly, there was the simply stunning looks from Emily Melville with the enchanting textile designs of Ivanka Georgieva. With an all pale color palette, each piece reminded me of a winter fantasy movie. Most of the nine looks featured what looked like landscape scenes
My favorite piece in this collection didn't have have screenprinting of a landscape on it, it was just a basic long sleeve dress with a non-basic shape and detail. So adorable
I can't wait to see what the students of Academy of Art showcase next season.