If you like shopping events like Shecky's Girls Night Out, you will love Gen Art's Shop NYC Event. Gen Art held it's 2nd shopping event at the old Fairchild Publications (WWD, DNR, Footwear News, etc)building, 7W Loft . Over 60 womenswear, menswear, and accessories brands, including DRU New York, Vintage Loft NYC, edressme, Bysog New York, Yumi Kim, etc were onsite to offer their products for up to 70% off and there were also the freebies (samples, makeovers, food, drinks) from Degree, Pinkberry, DEX, The Skin Spa, Milagro and Hendrick's summer cocktails, etc .
I arrived (Kim and Marisol would join me later) to be greated by a large Degree Lounge with three posts which showcased the three new scents from their Fine Fragrance Collection (Delicious Bliss, Sexy Intrigue and Classic Rommance). My favorite (and the one I'm currently using) is Sexy Intrigue whose notes consists of Jasmine, Rose and vanilla but I only took a photo of Delicious Bliss
I started walking around to see what goodies I'd see that would get me in trouble (I was on a budget this week). After I grabbed a glass of wine from a passing server, I heading to the BYSOG New York table (gorgeous handmade Italian Leather bags) in delicious colors
I also eyed the table next to them which had beautiful metal headbands which was very crowded, so I took a photo of a whole distance and continued since there was a lot of ground to cover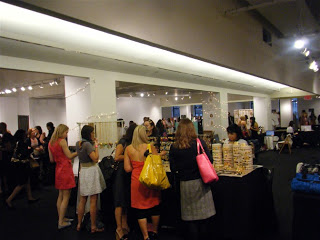 The next table that caught my eye was a collection of body jewelry, body necklaces to be exact and I'm not talking bellychains. I'm not sure if the name of the company is MacArt as stated above the necklace on the wall but my searches found no jewelry collection under that name
And since I was nearby, I decided to take a break and grab some Pinkberry (they were also giving out Popchips, but whenever I went back to their table, they were always out) but unfortunately, they were out of the Pinkberry yogurt so all anyone could get was fruit, which was fine by me (healthy thinking), so i grabbed a cup of mango and strawberry and continued on
My next stop was eDressMe, which had several racks of gorgeous dresses on sale, I saw names like Betsey Johnson, Scala, Jessica McClintock, etc. There was a $99, $50 and a $20. Yes a rack of dresses all for $20 each!!
And you might be wondering if I found a dress and I can tell you yes I did and it is beautiful. It is a Bollywood inspired dress and a photo of the style is below (mine is a lighter green)
I did some research and found out the designer is Jovani and it retails for $440. Don't believe me, check out the details HERE.