I know it's summertime (even though Mother Nature doesn't think so) but this is the perfect time to think about Holiday gift ideas. In this this economy isn't it better to spread out how much money you spend on gifts instead of trying to buy all at once and be broke in January? I thought so… Well, I've got a few ideas for you guys; I attended the Holiday Gift Guide Media Event held in the Westside Ballroom at the New York Marriott Marquis
Seventy Seven companies showcased holiday gift ideas that are sure to hold your attention and make you and your family very happy. From kitchen appliances to personalized published books, from gifts for foodies to innovative phones, I saw it all and I've already made out my Christmas list. A complete list of vendors in HERE
I wasn't sure where to start so I just decided to start with number 1 and go in numerical order. My first stop was Hamilton Beach. I was introduced to some very nice products by Sue Haase
My favorite is the Thermal Cooler Blender, which will definitely make an excellent gift for someone or for yourself (which I plan to do). Whats not to love, it keeps icy drinks cold up to 8 hours, it has an Easy-pour spout and a comfortable handle and so affordable at $39.99 for jyst the cooler blender or $44.99-$49.99 for both the cooler and glass blender. As a thank you for stopping by, I was given a rubber heat resistant spatula which is resistant to 450 degrees. It is amazing, I use it for my scrambled eggs on the grill.
My next stop was Bissell Homecare, where I was introduced to the Pet Hair Eraser Vacuum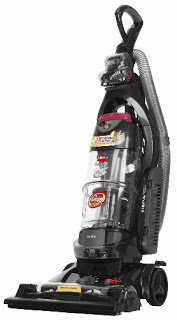 The vacuum provides "pet owners with superior suction and specially designed brushes and cleaning tools for removing pet hair, pet dander and dirt from carpets, upholstery and more. If you're also wanting to look for automated pet hair vacuum models you could probably find one in this Clean House Guide. Some models of robot cleaners are known to be quite good at picking up pet hair, though they might need emptying on a more regular basis. The latest model of Roombas are said to be good in this regard and are something you can look into for cleaning up dog hairs and other pet hairs and dirt. The Bissell vacuum's pet-specific tools and technology make it convenient for everyday use." It is available now at the suggested retail price of $149.99. I got some video of the vacuum as well so you can see the detachable parts
My next stop was still in the Home Electronics theme, Honeywell Home Comfort Products. If you don't know, Honeywell is the makers of energy saving Air Purifiers, Portable Heaters and Fans/Air Circulators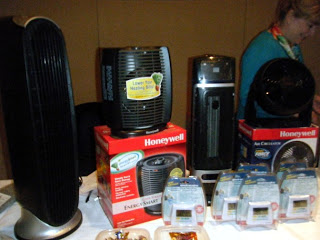 I am very familiar with Honeywell products as I currently own one of their Tower Fans, I love how quiet it is. I was introduced to Honeywell?s HHT-145 HepaClean? Tower 3-in-1 Air Purifier, a whisper-quiet air purifier with germ-fighting ultraviolet technology that helps reduce viruses, bacteria, fungi, and mold spores while the HEPA-type filters remove up to 99 percent of airborne particles such as dust, pet dander, smoke and pollen. It retails for $229.99 – 249.99 or you can get the lesser priced Honeywell QuietClean? Oscillating Tower Air Purifier which retails for $149.99 – $169.99 and has a lifetime permanent filter that helps reduce up to 99% of airborne particles such as dust, pollen, pet dander, smoke and mold spores from the air that passes through the filter
But the item I fell in love with with was this heater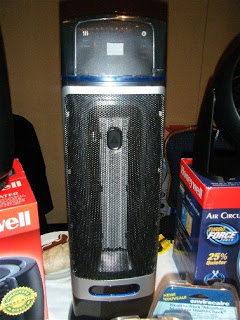 It is the Honeywell Digital Motion Sensor Safety Heater, a ?Top Pick? by Good Housekeeping, this adorable heater can tell when an object is too close to the heater and turns the heater off until the object has been removed. It also prevents overheating, is energy efficient and is a great deal at $69.99.
I cannot end this with out one more product mention, the Comfort for the Cure Air Circulator Fan made for Breast Cancer patients who suffer from hot flashes due to chemotherapy and estrogen suppressors. This table-top fan helps provide some relief to combat associated sweating and flushing symptoms, it features the classic pink ribbon insignia and a portion of every Comfort for the Cure air circulator fan sale will be donated to leading cancer organizations, supporting their work toward finding a cure and raising cancer awareness. This fan retails for a mere $16.99. So next time you're in themarket for a desk fan for your home or office, please consider Comfort for the Cure Air Circulator.
I will continue my coverage of the Holiday Gift guide soon.