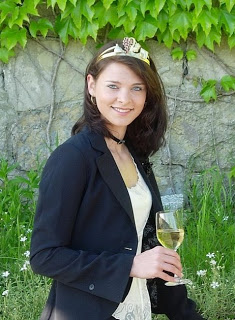 The lovely Marlies Dumbsky, current German Wine Queen, will be in New York the week of July 27th to make a few special appearances for her loyal Riesling-loving subjects. This event is free and open to the public!
Chosen for her extensive wine knowledge, sparkling wit and overall demeanor, Marlies is a 23-year-old vintner from the Franken region of Germany. As an official German wine spokesperson, she appears at hundreds of wine presentations and events all over the world.
Marlies and her biggest fan, Paul Grieco, partner, general manager and wine director of renowned New York restaurants Hearth, Insieme and Terroir Wine Bar (and Riesling aficionado in his own right) are available to chat with you about why Riesling is the fastest growing grape varietal in the U.S.
They both have a wealth of knowledge on the grape and why it's developed a passionate following here and abroad.
Marlies' reign ends this October. Take advantage of the two final chances to meet Marlies in the U.S. and enjoy some German Riesling with her:
Tuesday, July 28th from 6-8 p.m. at Union Square Wine & Spirits (140 4th Avenue at 13th Street) – Marlies will be pouring a variety of German Rieslings to summer patrons
Wednesday, July 29th from 7:30 p.m.-10:30 p.m. at Terroir (413 E. 12th St between First Ave and Avenue A) – Rumor has it that a Riesling pub crawl may ensue that evening, so stop by to meet the queen and participate in the Riesling madness!