Question for you all- Do you backup your computer? I'm not talking about creating a backup file and saving it to your computer, I'm talking about backing it up on a separate portable backup drive. For me the answer was always no, that was until I was introduced to Clickfree at the Holiday Gift Guide.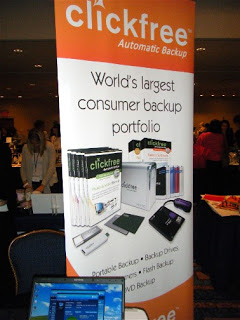 At that event, a demonstration was done featuring the Portable Backup Device
I tested the 16 GB Clickfree™ Traveler, which retails for $79.99 (it also comes in a 32GB, retail $149.99 and a 64GB, retail $249.99)
As you can see it is the size of credit card but the true beauty is there is no software to install, you can backup up to 400 file types, is both PC and Mac compatible and is supported by 14 languages. Sounds easy to me and oh my god it was. All I did was plug it into one of my computer's usb drives and watched the magic happen
The whole thing took about 10 minutes, maybe even less because I walked away to get a snack and when I came back, the backup was complete. Amazing right?
Anyway, what I mentioned was the first time I ever backed up my computer and as I stated it took less than ten minutes (The first time you back up your computer it will take longer depending on how much files you have in storage). The second time I backed up my computer literally only took 2 minutes (the program also automatically reminds you to back up your computer; you can set the reminder from every one to thirty days). If you've ever worried about or afraid of backing up your computer because you believe you need to be some kind of rocket scientist, Clickfree solves that problem for you. If there was a "Backup Your Computer for Dummies" book, it would only have one page and the name clickfree.