As a blogger, I'm always asked about beauty products I use and loved, many times about hair. Most of the hair questions are about transitioning the hair from being permed to wearing it in its natural state. Though the African American women are the majority who chemically treat their hair, they are definitely not the only ones who do. Because of more women going natural, there is a great need for products to help women achieve their end result while still having beautiful, healthy hair – something that's been lacking until now. Carol's Daughter has filled that void in creating their new line of Transitioning Hair Products.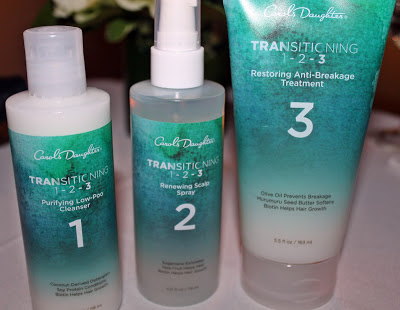 Carol's Daughter Transitioning 1-2-3 consists of three products that ease you from relaxed to natural hair while promoting a healthier scalp, 93% less shedding and softer hair. Whether you're chopping it all off and starting over, growing it out but still straightening it, growing it out curly or using braids, weaves or extensions as you grow out your hair, these three products are a must to help with your journey

Purifying Low-Poo Cleanser – .Cleanse and detangle unmanageable hair as you hydrate and nourish each strand with this rich conditioning cleanser that contains coconut-derived detanglers, soy protein conditioners and Biotin to aid in hair growth.
Renewing Scalp Spray – a powerful spray that exfoliates to help heal your damaged scalp and follicles. Like the Low-Poo Cleanser, this also contains Biotin to aid in hair grow as well as sugarcane to exfoliate and vera fruit to help heal and rejuvenate the scalp.
Restoring Anti-Breakage Treatment – This amazing treatment product restores and conditions your hair at the point where your new growth meets the permed parts of your hair, called the Demarcation Points. Soften, heal and fight breakage with Olive Oil, Murumuru Seed Butter and Biotin containing essential treatment.
For help and tips from experts with your hair transitioning, sharing stories and ideas with other women who are transitioning, and support in your new hair journey, visit TransitioningMovement.com. a site dedicated to providing the resources that women need to embrace their natural hair. This definitive online source on how to transition was founded on the idea that every woman should celebrate her own unique beauty.